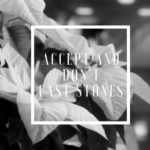 WAY #19 ACCEPT AND DON'T CAST STONES
LAST SEPTEMBER, Marsha and I had the opportunity to see the Broadway production of To Kill a Mockingbird. The play was a rendition of Harper Lee's book that many, as I did, read in high school. As you may recall, the plot takes place in a small Alabama town that is suffering through the Great Depression. The main character, Atticus, is a prominent attorney who is widowed and has two children. Atticus defends an African American man who is falsely accused of sexually assaulting a young Caucasian woman. He confronts the racism and prejudice that is exemplified and threaded into the fabric of his community.
Atticus is characterized with absolute consistency. He is a person of high ethical standards and integrity. In spite of the rejection and threats that both he and his children face, he is committed to seeing that justice is served.
In spite of how horribly he is treated, he works to teach his children to seek out what is good in people, not to judge, and to forgive what is bad. He upheld a commitment to principled truth even when he and his children were rejected and ostracized.
The Bible tells us that God accepts us and welcomes us in spite of our sinful nature. When Jesus walked the earth, he was a perfect example of accepting and loving others. Jesus, to the dismay of the Scribes and Pharisees showed overwhelming love and mercy to the underserved and judged. He accepted and loved even his persecutors.
Atticus did not reject those that worked to harm him. He worked to maintain an unconditional acceptance of them while not relinquishing his principles. Jesus told us to welcome and show love to all in spite of our differences, and in humility share the riches of God's Grace while proclaiming the truth of the Gospel.
Our church is to be a place where the love of Jesus is proclaimed and where all are welcomed.

Elder Paul Booker
---