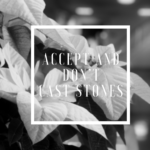 WAY #19. ACCEPT AND DON'T CAST STONES. God's love opens the doors of our church to all people. Just as Jesus did, welcome people as they are. It's not up to us to judge. Love unconditionally, and as Christ has received you, receive others.
Scriptures: 1 Timothy 2: 6- 7; Luke 15: 1-2; Romans 15: 7
YEARS AGO ON A sunny September day in east Los Angeles, I found myself standing in the middle of a noisy courtyard surrounded by teens eating lunch. It was my first day at San Marino High School as a volunteer Young Life leader. I was there to meet students, strike up conversations, and invite them to youth group. Driving to campus earlier that day, I had a game plan: Find parking. Walk onto campus like you know what you're doing. Be confident. I found parking, but anything resembling confidence had been lost somewhere along the 210 freeway. Who knew walking back onto a high school campus could bring back all the old fears like vulnerability, rejection and self-doubt.
Way #19 takes me back to my Young Life days when my heart and eyes were really opened to the relational nature of Jesus' ministry. Jesus loved spending time with messy people because he saw past the surface, far beyond our fear-based judgments and straight into the heart of humanity — our universal need to love and be loved. Love can only happen in relationship with Jesus and with other people. Or more specifically, through extravagant friendship.
"I came not to judge the world, but to save the world!," Jesus shouts in John 12. Watch!, Jesus is saying. Watch how extravagant friendship—love without judgment and expectation—can free you, transform you, enliven the church, our neighborhoods, the world! Watch how unconditional love can liberate humanity from its fearful, selfish nature! C.S. Lewis puts it another way: "Friendship is unnecessary, like philosophy, like art, like the universe itself (for God did not need to create). It has no survival value; rather it is one of those things which give value to survival."
On my first day at San Marino High School, there was no difference between me and the hundreds of students that huddled in their lunchtime cliques. We all were hungry for acceptance and love and probably some Oreos, too. Which is when I heard eight memorable words from a freshman girl nearby: "You can sit with us if you want." So I did. They sounded like Jesus' words, because they were. Words of invitation, belonging and extravagant friendship.
Kelly LePenske
---