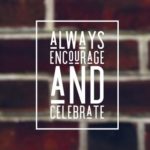 WAY 4. ALWAYS ENCOURAGE AND CELEBRATE. Show gratitude and appreciation by regularly acknowledging the good works you see everywhere. Look for signs of spiritual growth and maturity among our members and staff. When you see it, point it out and rejoice. Pass on good reports that you hear about others. Read: 1 Thessalonians 1: 3-4; Acts 11: 22-23
I REMEMBER ATTENDING the National Prayer Breakfast some years ago in Washington, DC. I happened to be walking down a hallway next to one of my heroes in the Presbyterian ministry, Dr. Richard Halvorson (Chaplain of the Senate 1981-94). We were talking about something I thought was important, when suddenly he swerved sharply, midsentence, toward the men's room. I certainly understand that these kinds of maneuvers are absolutely necessary at times. But no, Dr. Halvorson didn't go into the bathroom. He walked directly to the man sitting on a chair next to his pail and mop. He shook hands, they laughed and I could hear Dr. Halvorson call the man by name. They may have spoken two whole minutes. I was shocked on many levels: 1) He stopped to talk to somebody, nobody ever talks to – the guy who cleans the bathroom; 2) He actually knew the person's name; 3) and he knew enough about the man that they actually had some kind of conversation.
Dr. Halvorson's encouragement class took place in a split second. I've never forgotten this distinguished man's humble spirit and ability to immediately elevate the self-worth of a `stranger.' The writer of Hebrews says, Let us consider how to provoke one another to love and good deeds … ENCOURAGING one another (10:25-26).
Encouraging one another is not an automatic inclination. Often, I simply don't want to take the time to be in a conversation. Often, I'm only thinking about myself, blind to those around me. Sometimes I step back from another not knowing if she or he will welcome a conversation.
Three encouragements as we go into the week:
1. Find time to individually encourage each one in your inner circle – those closest to you.
2. As the Hebrews writer says, let's encourage one another in this congregation. Encourage the pastor, the staff, the leadership teams, the person sitting next to you!
3. Out in the world look as you pass a public bathroom – anybody you can say `thank you' to? Or how about a teacher or supervisor at work, or a classmate who sits alone at lunchtime.
We have so much to be thankful for! Encouragement passes through this beautiful congregation to our house every day – every day!
Thank you! Dr. Jonathan Miller
---