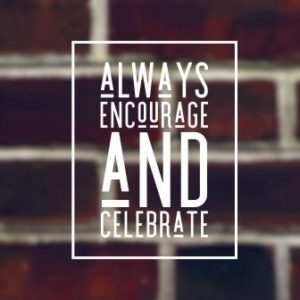 ALWAYS ENCOURAGE AND CELEBRATE. Show gratitude and appreciation by regularly acknowledging the good works you see everywhere.a Look for signs of spiritual growth and maturity among our members and staff. When you see it, point it out and rejoice.b Pass on good reports that you hear about others.
aWe always thank God for all of you and pray for you constantly. As we pray to our God and Father about you, we think of your faithful work, your loving deeds, and the enduring hope you have because of our Lord Jesus Christ. (1 Thessalonians 1: 3, 4)
b When the church at Jerusalem heard what had happened, they sent Barnabas to Antioch. When he arrived and saw this evidence of God's blessing, he was filled with joy, and he encouraged the believers to stay true to the Lord. (Acts 11: 22, 23)
A Lutheran pastor named Walter Wangerin once had two very ordinary encounters with two different gas station attendants. These encounters happened years ago, years before one could swipe a credit card at the pump. Back then, you handed money or a credit card to an attendant.
One rainy day Pastor Wangerin pulled his car into a station. A young employee walked towards him and greeting him with "Hello". The exchange was simple. The attendant pumped the gas, the pastor paid with exact change. When the pastor slid back into the driver's seat, his son asked his Dad why he was smiling. It was probably the attendant's handshake and his "thank you" given while looking directly into the eyes of Walter.
The second encounter occurred inside a gas station. This time, the attendant, a woman sat behind Plexiglas counter reading a book. Where she was wasn't a problem for Pastor Wangerin. The problem was the woman's attitude. With curt sentences spoken with clear annoyance, this woman made the pastor feel like a burden and a waste of her time.
Two forgettable meetings but the first left Walter built up and the second deflated him. He wrote later, "Every time you meet another human being you have the opportunity. It's a chance at holiness. For you will do one of two things, then. Either you will build him up, or you will tear him down. Either you will acknowledge that he is, or you will make him sorry that he is—sorry, at least, that he is there, in front of you. You will create, or you will destroy. And the things you dignify or deny are God's own property . . .
And I say to you, 'There are no useless, minor meetings. There are no dead-end jobs. There are no pointless lives. Swallow your sorrows, forget your grievances and all the hurt your poor life has sustained. Turn your face truly to the human before you and let them, for one pure moment, shine. Think her important, and then she will suspect that she is fashioned of God."
Go and be builders of one another. Speak your love, articulate your appreciation, let those you cherish—at home, school, work and here—know that they are fashioned of God.
---