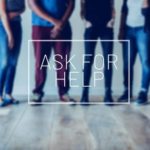 WAY #18 ASK FOR HELP
An Ever-Present Help in Trouble
IN EARLY MARCH, Frank and I went to Florida, thinking we would be there for ten days. Shortly after arriving, COVID-19 changed the world, and suddenly all the plans we had for extensive business travel for the rest of the month were scrapped, and all our in-person meetings were moved to Zoom. Instead of being here for ten days, we are going on seven weeks! While I have felt conflicted about being here much of the time, there have been some definite perks of sheltering in Florida; number one on my list has been the opportunity to work much of the time while sitting outside. We have a patio with a roof over it which shields us from the sun but not the breezes.
During our second week here, we noticed that two small blackbirds seemed to be building a nest inside one of the columns that holds up the roof to our patio. The columns are apparently hollow, and there is space between the roof and the top of the column small enough for the birds to slip into. Somewhere around week five, we heard animated chirping from inside the column and realized that not only had they laid eggs, but that the eggs had hatched. For days we watched as one or the other of the birds would leave the column, fly back with a worm, and dive headfirst back inside to a chorus of "Cheep! Cheep! Cheep!" They did this continually from sun up to sun down.
Last Wednesday, I noticed that the birds had stopped coming and going. I paid close attention, and there was no activity around the column. I googled how long birds usually stay in the nest and determined that it was too early for the babies to leave and that they likely had not survived for whatever reason. This made me incredibly sad, as their birth was a reminder that life goes on, and that there was still some normalcy in the world.
The next morning, I brought my laptop outside to do something I was dreading; we were about to have a second round of furloughs at work, and I needed to review this final list. I have worked in my family's business for 34 years, and we had never furloughed anyone. To make sure that we have a strong company to which our folks could return however, it was a necessary action in these unprecedented times. I sat reviewing this list and a feeling of heaviness washed over me like I had never felt before. I closed my laptop and just prayed. I told God I needed help and I needed strength. Then, as if on cue, one of the blackbirds flew to the top of the column, launched headfirst in there, to a greeting of lively cheeps. Tears of relief came to my eyes. I felt that God was reminding me that he was with me, and the heaviness lifted. This was still going to be hard, but I, along with our people, am in God's hands, "…our refuge and strength, and ever-present help in trouble." God will see us through.
Mindy Holman
---