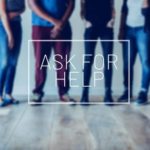 WAY #18. ASK FOR HELP. Part of being a real and authentic member of the church is to acknowledge your weaknesses and to be willing to ask for God's help and the support of others. None of us can go it alone. Vulnerability is a sign of strength and a gift to others. Scriptures: Psalm 107:6; 2 Corinthians 12: 9; 1 Corinthians 15: 10
SOMETIMES IT IS VERY HARD to ask for help. The thing is, we often need help. And sometimes the only way to get that help is to ask for it.
Part of being a Christian means relying on God for help. We can pray directly to God. We can ask the church to pray for us. We can talk to the minister. What we should realize is that God's answer can come in many ways. One way God can answer your prayer is by putting a Stephen Minister in your life.
One of the ministries of the church is the Stephen Ministry. Stephen was the first martyr, but he also thought of the idea of sending more than just the apostles to help others. When Kenneth Haugk began the Stephen ministry program 40 years ago, he decided that lay people who received training could provide distinctively Christian care to other members of the church. Ordained clergy are often spread too thin to be able to do this. That is where Stephen ministers come in.
In our church, many lay people have answered the call to become a Stephen Minister, completing the 50 hour training program. We currently have 14 active Stephen Ministers including five active Stephen Leaders who have gone for extra training to help run the program at our church. A Stephen Minister will meet with you for about one hour each week. He or she will listen to your problems and help you get through the tough times with God's guidance.
Stephen Ministry provides a safe place to ask for help. This confidential program only works when caregivers are paired with care receivers. The difficult part of this ministry is getting those who need help to ask for it. Sometimes a friend or family member will suggest that you ask for a Stephen Minister. Remember none of us can go it alone. Ask for help.
Doris Kahley, Stephen Leader
---