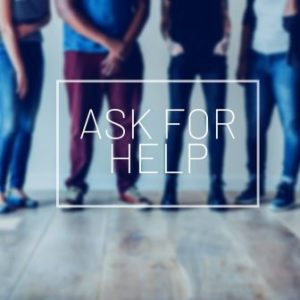 WAY #18: ASK FOR HELP. Part of being a real and authentic member of the church is to acknowledge your weaknesses and to be willing to ask for God's help and the support of others. None of us can go it alone. Vulnerability is a sign of strength and a gift to others.
Scriptures: 2 Corinthians 12: 9; 1 Corinthians 15: 10)
A FEW WEEKS AGO, my small group discussed how we can better serve and better meet the needs of those around us. As we talked through the needs we see and the needs we know, it became increasingly obvious that people tend to hide their need pretty well. Sometimes, we even go so far as to turn away help that is offered.
Most of us are asked daily, "How are you?" and for most of us the answer is "Good." There is something about asking for help or showing need that doesn't tend to fit in with modern American culture.
As we talked, the story of Ruth and Naomi came to mind. After Naomi's husband dies, Naomi does her best to send Ruth away, but Ruth stays anyway. It is easy to want to react like Naomi does and push people away so we aren't a burden or a hindrance to their lives. It is easy to want to hide away our need and answer "Good." But in hiding our need and pushing away help, we also hide from grace.
The great joy of the Christian message is that from start to end, you are not in it alone. You are made by God, forgiven by God, saved by God, empowered by God, and will be resurrected by God. From the beginning to the end and all the way through, Christianity is about being helped. No one expects you to have it all together; no one expects you to have all the answers.
When we Ask for Help, the strength of the Church can shine and the power of God can be perfected in our weakness. Asking for Help isn't admitting defeat, it is inviting grace and power into your life.
Dan Wonneberger Director of Youth and Family Ministry
---