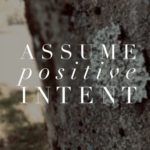 WAY #5. ASSUME POSITIVE INTENT. Decide to trust that others are being fair, honest, and concerned for the well-being of our church. Set aside your own judgments and preconceived notions. Surrender the urge to criticize and judge—it doesn't help. Read: I Peter 4:8; Galatians 5:15; Matthew 7:1
I honestly don't know if there is a Way more challenging for me than this one. I've thought long and hard about it and wrestled with the benefits and struggles of focusing on this call to assume positive intent. I must admit that it is not 'natural' for me… And I don't find the "judge not, so you won't be judged" a right motivator. For me, releasing a reflex impulse to assume negative intent is healed only by immersing myself in pondering Grace – the Grace that is Jesus Himself. It is God Who loves you and loves me to the saturation point where transformation can happen.
The New Covenant declares to us that loving God (and even our neighbor) is possible because He FIRST loved us (1 John 4:19). It is His unmerited, undeserved, unearned grace that pushes away the old performance-driven angst about getting it right – it is the finished work of Christ Jesus that softens and renews and transforms our minds and hearts. (Gal 3:14,26-27) For me it is not a bold resolution to do better or try harder or work at it longer – I couldn't do another day without Him. Yet, what a reward for daring to trust Him. When His love fills up your heart and mind, the old thinking begins to dissolve like dull stains.
Perhaps there are others like me who must begin by assuming positive intent of God and Christ and the Holy Spirit; that our heavenly Father and Savior and Counselor are loving, honest and concerned for our well-being and for all of the church. It is through increasing confidence in the transforming power of God's love that I can care for others, to value their personalities, to embrace their ideas and to move forward together.
Blessings, Gayle Payne
---