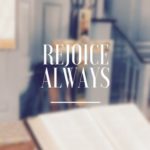 WAY #25 REJOICE ALWAYS
TODAY IS MY BIRTHDAY. The big 55. I now am a senior citizen. Woo hoo! Discounts galore and the ability to move into a 55 and older community. I look forward to celebrating!
As I write to you, I think back to February when I visited Kubiri, Uganda, and saw the work of a ministry called Reach One Touch One. The focus of this ministry is caring for senior citizens which I am now officially part of that club. In Uganda, many grandparents are raising their grandchildren during this advanced period of their lives in homes that are primitive with no running water or electricity. Other diseases such as AIDS have taken their children leaving them to be both parent and grandparent. Some have as many as 20 grandchildren in their care. The country does not have government assistance such as social security so these older adults must continue to work to support their families doing whatever they can. The health care available to most is not very good. Poverty is rampant. Schools all require tuition so many children in these situations cannot go to school as their family needs those funds to eat.
I met Mary when I visited. She was all smiles as she introduced me to her two grandchildren. She kept touching my hair and telling me how pretty it was. I felt like an honored guest at a party. She was completely gray with deep wrinkles. I learned she was only three years older than me. She was making mats to sell in the market. It took her an entire week to make one and she netted $2 after costs of materials which was all she had to support her family. I bought and brought home Mary's mat as a memory from my trip. Mary told me how blessed by God she was to have her home and a means to make money and support her family. She made a gift of popcorn kernels to me that she had grown behind her house. I was so touched. She also prayed for me before I left and gave me an incredible hug. Her smile never left. Even with so little, Mary's life was a celebration.
As I sit in my home and complain about not being able to hit my favorite restaurant to celebrate this milestone birthday, I also sit and count my blessings. The things I have had to give up don't even come close to what this pandemic has done in countries like Uganda. I am still able to work and talk to friends. I have technology which allows me to reach the world just not all parts of Uganda. Since visiting homes and families in Uganda, I pray daily or these families who are followers of Jesus and who struggle. I pray for Reach One Touch One to make a difference in the lives of the senior citizens like me. For my birthday, I am determined to spend this year with an attitude of gratitude for all of the blessings that God has given me and, like Mary, make my life a celebration.
Linda Jagiela
Read more...
---