Pastor's Update: FPC Responds to COVID-19

(Coronavirus)
Be not afraid, my sisters and brothers. Fear, not the coronavirus, is our enemy. The Lord reigns! Let us rejoice, give thanks and live for him. Pastor Stuart Spencer
Food Pantry Parade
On Sunday, May 31st, Pentecost Sunday, the Deacons hosted a drive-up food donation event at the church. The zero-contact occasion occurred on a beautiful spring day. Participants entered the main church parking area and were able to stay inside their car or truck. Masked and gloved volunteers removed the donation for transfer into vehicles that transported food pantry items directly to agencies in the area.
Pastor Stuart, Kelly, Linda, Deacons and volunteers were onsite to thank and bless those making donations as they participate. We miss you!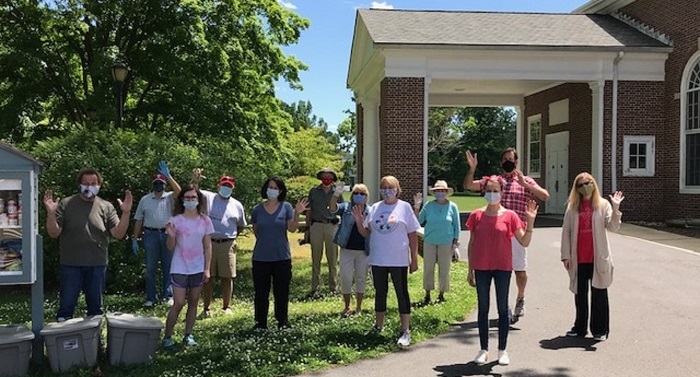 Although we won't be together for a time due to the highly contagious COVID-19, please continue to support FPC Moorestown financially. Like many others, we still have ongoing expenses and mission commitments, and deeply desire to support families who are stretched especially thin right now.
Members, Families and Friends of FPC Moorestown,
Our church leadership and Staff, in order to keep our church community safe and to comply with our state's directives, have developed the following plans for the church:
We have postponed gathering for ALL indoor worship services, church activities, and outside events until further notice

.

Connect with FPC Moorestown every SUNDAY AT 9:30 am and THURSDAY AT 7:00 pm for Live Stream Worship.
The church office is CLOSED but you may reach OUR STAFF MEMBERS via e-mail
Pastor Update, Coronavirus Letter 8
Session Approves Recommendation for Outdoor Worship Gathering
July 31, 2020
Dear Members and Friends of FPC Moorestown,
For months, I've carried a vision in my mind of a time when we can return to our sanctuary and Miller Commons to worship God together. I can easily see people in the pews or chairs. I'm getting to know you well enough to put most of you in your favorite place. I imagine us together and I hear us singing these familiar words of the hymn:
We gather together to ask the Lord's blessing;
He chastens and hastens His will to make known;
The wicked oppressing now cease from distressing;
Sing praises to His Name; He forgets not His own.
How good it will be when we can gather together, for there is certain comfort and strength that's found when you sit with your sisters and brothers in Christ. As Dietrich Bonhoeffer wrote in his classic Life Together, "The physical presence of other Christians is a source of incomparable joy and strength to the believer."
I realize that I'm preaching to the choir and many of you have expressed your desire to come back to church on Sunday mornings. While we may not be ready to experience all of this vision, I'm pleased to tell you that on Tuesday, July 28, our Session unanimously approved plans for in-person outside worship beginning on Sunday, August 30.
Working to Safely Re-Open
For months, numerous work groups comprised of Session members, staff, and assorted members of Trustees, Deacons and our usher team have diligently addressed the numerous challenges we face amid the COVID-19 pandemic. The work group tasked with figuring out how we can safely re-open for worship has had a bewildering number of details to consider. All along, the mutual health and safety of our members and friends have been the primary concerns.
On Sunday, August 30, we'll begin offering an outdoor worship service at 8:30 a.m. in the courtyard between Miller Commons and the sanctuary. This worship service will last about 30 minutes and will include music, prayer, and a sermon. Every week we will continue to live stream our Sunday morning worship service at 9:30 a.m. Those who come to the outdoor service will be asked to physically distance and wear masks. Please bring your own chairs. Those who need to can park in the lot nearest the sanctuary while all others should use the large parking lot.
All participants will be asked to sign a one-time Waiver and Health Screening Questionnaire, prior to the outdoor reopening, as part of a pre-registration process. Both forms and pre-registration may be easily completed online.
Fall Kickoff
On Sunday, September 13, we're planning one large outdoor worship service on the lawn in front of the sanctuary at 9:30 a.m. for our Fall Kickoff. We plan to live stream this special worship service gathering!
In the coming weeks, we'll provide you with full details for participating in outdoor worship and communion. We'll likely maintain this schedule through the end of October. We hope to be ready for some form of indoor worship by the first Sunday of November.
For now, I'm grateful that we are able to offer live stream worship with all the improvements we've made in recent months. Please continue to ask God for His wisdom for all of us, especially the leaders who serve our congregation. Thank you for your generous and consistent financial support. Please keep it up! Sometime soon, perhaps on August 30, we'll also sing these concluding words of "We Gather Together":
We all do extol Thee, Thou Leader triumphant,
And pray that Thou still our Defender will be;
Let Thy congregation escape tribulation;
Thy Name be ever praised! O Lord, make us free!
Affectionately yours in Christ,
Stuart H. Spencer, Pastor
Messages from members of the FPC Moorestown Staff during this difficult time.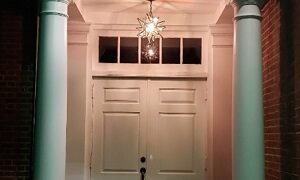 Pastor Update, Coronavirus Letter 7
"We'll leave the light on for you … "
July 3, 2020
Dear Members or Friends of FPC Moorestown,
You may remember the old ad from Motel 6: We'll leave the light on for you. A light left on is a silent sign of welcome and care — at a hotel, home, or a church. A light on means that you're in someone's mind and heart. READ MORE…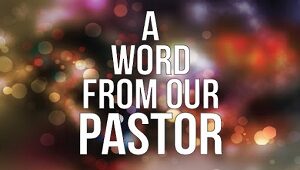 Pastor Update, Coronavirus Letter 6May 29, 2020
Dear Beloved Members and Friends of FPC Moorestown,
It feels like forever since I last saw you in person. I carry you in my heart and I lift you before the Lord in prayer.
READ MORE…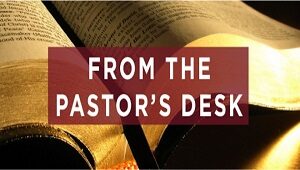 Pastor Update, Coronavirus Letter 5May 8, 2020
Dear Members and Friends of FPC Moorestown,
"Since you excel in so many ways—in your faith, your gifted speakers, your knowledge, your enthusiasm, and your love from us—I want you to excel also in this gracious act of giving." (2 Corinthians 8: 7)
READ MORE…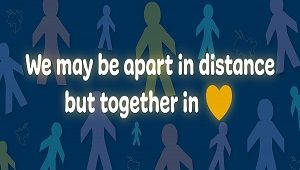 Friday, April 24, 2020
"And now the word of the Lord is ringing out …"
Dear Members and Friends of FPC Moorestown:
A blessed and joyous Easter to you! If you've forgotten that we're still in the season of Easter, then allow me to remind you. In reflecting on this season, author Joan Chittister writes,
Thursday, April 2, 2020
Dear Sisters and Brothers in Christ, As we prepare for a Holy Week unlike any other we've experienced, I want to share a wonderful observation from The Rev. Dr. Emily C. Heath. She noted, "The first Easter didn't happen at a church. It happened outside an empty tomb, while all the disciples were sequestered at home, grief-stricken and wondering what was going on. So, we're going to be keeping things pretty Biblical this Easter."
READ MORE…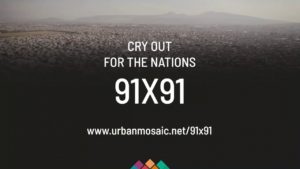 Wednesday, April 1, 2020
91 x 91: Praying Psalm 91 for 91 days
As one of our partners, and in light of the COVID-19 pandemic that is hitting all of us, and may wreak havoc in the urban poor communities where we serve[1], we would love to invite you and those in the Moorestown Presbyterian Church Community that you think would be interested, to join us in a prayer campaign that we´ve named "91×91".
READ MORE…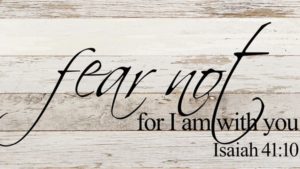 Wednesday, March 18, 2020
Friends,
As so many of the letters written to the early church begin,
"Grace and peace to you from the Lord Jesus Christ!"
Now that life has shifted so suddenly and with such uncertainty, we're seeking the Lord as we haven't sought him before. I'm grateful for the opportunity to trust God more deeply, serve God more energetically and live for God with greater love and joy.
READ MORE..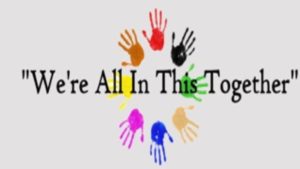 Friday, March 13, 2020
Brothers and Sisters in Christ,
As you know, the coronavirus (COVID-19) is a highly contagious flu-like virus that is spreading rapidly throughout the world and the United States. While the risk of becoming seriously ill or dying from the virus is very low, for some people — especially the elderly and those who are already fragile — it is potentially deadly. READ MORE…