Pastor's Update: FPC Responds to Coronavirus

(COVID-19)
Be not afraid, my sisters and brothers. Fear, not the coronavirus, is our enemy. The Lord reigns! Let us rejoice, give thanks and live for him. Pastor Stuart Spencer
Food Pantry Parade
On Sunday, May 31st, Pentecost Sunday, the Deacons hosted a drive-up food donation event at the church. The zero-contact occasion occurred on a beautiful spring day. Participants entered the main church parking area and were able to stay inside their car or truck. Masked and gloved volunteers removed the donation for transfer into vehicles that transported food pantry items directly to agencies in the area.
Pastor Stuart, Kelly, Linda, Deacons and volunteers were onsite to thank and bless those making donations as they participate. We miss you!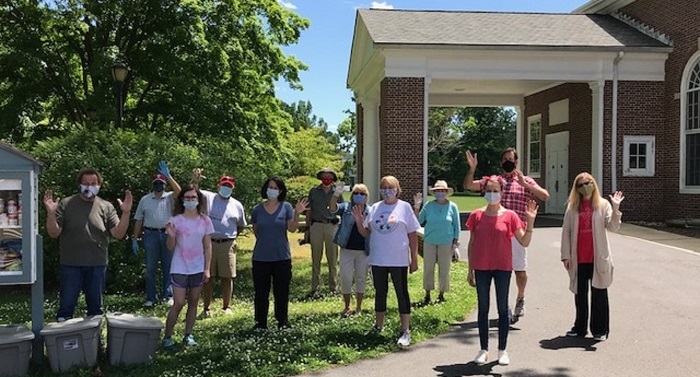 Although we won't be together for a time due to the highly contagious COVID-19, please continue to support FPC Moorestown financially. Like many others, we still have ongoing expenses and mission commitments, and deeply desire to support families who are stretched especially thin right now.
Members, Families and Friends of FPC Moorestown,
Our church leadership and Staff, in order to keep our church community safe and to comply with our state's directives, have developed the following plans for the church:
We have postponed gathering for ALL worship services, church activities, and outside events until further notice

.

Connect with FPC Moorestown every SUNDAY AT 9:30 am and THURSDAY AT 7:00 pm for Live Stream Worship.
The church office is CLOSED but you may reach OUR STAFF MEMBERS via e-mail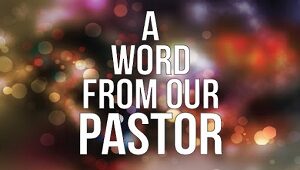 Pastor Update, Coronavirus Letter 6May 29, 2020
Dear Beloved Members and Friends of FPC Moorestown,
It feels like forever since I last saw you in person. I carry you in my heart and I lift you before the Lord in prayer.
Last Sunday, I preached from 1 Thessalonians 2: 17 – 3:13. As I studied the passage, I identified with the Apostle Paul, who was a distance from these people he knew, loved and missed. He was in Athens and they were in Thessalonica. At the end of the third chapter, most English translations have three or two sentences to translate two lines from the Greek. The lines are blessings or benedictions. You can and should read each one as a promise held by God for you. I'd like to use these little blessings to give you an update on the state of our church and our plans to reopen.
May God our Father and our Lord Jesus bring us to you very soon. (1 Thessalonians 3: 11)
While I look forward to that time when we can gather in person, we're not there yet. Though our buildings remain closed, the church is very much open and alive. I'm deeply grateful for our staff and lay leaders who are working hard to share the love and truth of Jesus during this extraordinary season. Despite the distance, we're staying connected through online worship services, Zoom small groups and coffee hours, children and youth ministries, and mission projects.
And may the Lord make your love for one another and for all people grow and overflow, just as our love for you overflows. (1 Thessalonians 3: 12)
Earlier this year, our Session adopted three statements, including a Why statement. We've claimed the words of Jesus that the most important commandment is to "love God with heart, soul, mind and strength" and, "love our neighbor as ourselves." Your Session and staff are committed to loving one another and all people by keeping the safety of everyone first in our minds and our planning. We are prayerfully and carefully planning to do what is best to protect the well-being of you, your family, our church family, and the community we desire to reach with the Gospel. We've formed six Work Teams to think through what we need to do to prepare us for an uncertain future. The Work Teams are: Prayer & Discipleship, Worship, Personnel & Workplace, Small Groups, Outside Groups, and Community Outreach. At our May Session meeting, we heard updates from each group. By the end of June, I anticipate that we'll have not a blueprint but a playbook. The evolving nature of this pandemic reminds us to stay open and respond appropriately to changing conditions.
May He, as a result, make your hearts strong, blameless, and holy as you stand before God our Father when our Lord Jesus comes again with all His holy people. Amen. (1 Thessalonians 3: 13)
There's a confidence in Paul's blessing as he bestows it upon the Thessalonian congregation. He was certain that God was able to keep his sisters and brothers in Christ strong until the end. I share the Apostle's buoyancy. Every generation of believers has found a strength when they were certain they wouldn't make it. Stay strong, FPC Moorestown! Draw strength from our live stream worship on Sunday mornings. Be refreshed on Thursday evenings with our Prayer Service. Remember that you can make a difference for the hungry and those in need in our community by participating in Sunday's Pentecost COVID-19 Offering and joining our Food Pantry Parade that same day from 12:30 p.m. to 2:00 p.m.
For now, Session has decided to keep our campus closed until at least the end of June. We'll evaluate then and we'll share with you what we can.
Thank you for your support and help. May God richly and faithfully bless you and us for His purpose and glory.
Sincerely yours in Christ,
Stuart Spencer, Pastor
Messages from members of the FPC Moorestown Staff during this difficult time.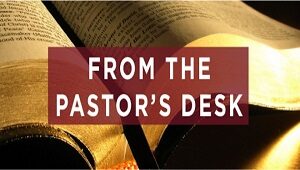 Pastor Update, Coronavirus Letter 5May 8, 2020
Dear Members and Friends of FPC Moorestown,
"Since you excel in so many ways—in your faith, your gifted speakers, your knowledge, your enthusiasm, and your love from us—I want you to excel also in this gracious act of giving." (2 Corinthians 8: 7)
READ MORE…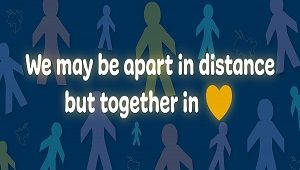 Friday, April 24, 2020
"And now the word of the Lord is ringing out …"
Dear Members and Friends of FPC Moorestown:
A blessed and joyous Easter to you! If you've forgotten that we're still in the season of Easter, then allow me to remind you. In reflecting on this season, author Joan Chittister writes,
Thursday, April 2, 2020
Dear Sisters and Brothers in Christ, As we prepare for a Holy Week unlike any other we've experienced, I want to share a wonderful observation from The Rev. Dr. Emily C. Heath. She noted, "The first Easter didn't happen at a church. It happened outside an empty tomb, while all the disciples were sequestered at home, grief-stricken and wondering what was going on. So, we're going to be keeping things pretty Biblical this Easter."
READ MORE…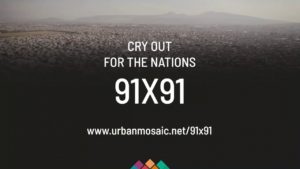 Wednesday, April 1, 2020
91 x 91: Praying Psalm 91 for 91 days
As one of our partners, and in light of the COVID-19 pandemic that is hitting all of us, and may wreak havoc in the urban poor communities where we serve[1], we would love to invite you and those in the Moorestown Presbyterian Church Community that you think would be interested, to join us in a prayer campaign that we´ve named "91×91".
READ MORE…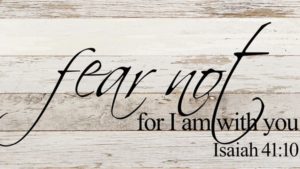 Wednesday, March 18, 2020
Friends,
As so many of the letters written to the early church begin,
"Grace and peace to you from the Lord Jesus Christ!"
Now that life has shifted so suddenly and with such uncertainty, we're seeking the Lord as we haven't sought him before. I'm grateful for the opportunity to trust God more deeply, serve God more energetically and live for God with greater love and joy.
READ MORE..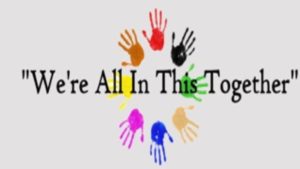 Friday, March 13, 2020
Brothers and Sisters in Christ,
As you know, the coronavirus (COVID-19) is a highly contagious flu-like virus that is spreading rapidly throughout the world and the United States. While the risk of becoming seriously ill or dying from the virus is very low, for some people — especially the elderly and those who are already fragile — it is potentially deadly. READ MORE…