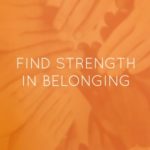 WAY 20. FIND STRENGTH IN BELONGING. At FPCM, you're loved and valued. Claim us as your family. Rather than withdrawing, allow struggles and disappointments to deepen your sense of belonging. Pray for chances to bring healing to relationships. Please be patient! God isn't yet finished with us or with you. – Romans 14: 7-9; Acts 2: 46; Matthew 12: 25
WHILE ATTENDING A CHURCH in South Carolina the sense of belonging was full of congregational emotion as they sang together week after week at the close of each service "There's a sweet, sweet spirit in this place and I know that it's the spirit of the Lord (our Hymnal page 291)"
Research studies reveal a sense of belonging to a greater community improves your motivation, health, and happiness. A sense of belonging is a human need, just like the need for food and shelter. Belonging is where we feel secure, supported, accepted, and included. Feeling that you belong is most important in seeing value in life.
When we first feel a sense of belonging it is as a child, belonging to our earthly family. God's intent is we develop into His disciples knowing there's a place for all God's children in His church. In God's house there's a place for each one of us to belong. There's an old but true saying: "To make a friend, be a friend." Similarly, to receive acceptance, give acceptance. Jesus taught, "Give, and it will be given to you" (Luke 6:38). When you grant others a sense of belonging, you will feel a greater sense of belonging yourself.
Acts 2:46 reflects on the fellowship of believers, 'Everyday they continued to meet together…they broke bread in their homes and ate together with glad and sincere hearts, praising God and enjoying favor of all the people." That daily fellowship guided the early church in developing a belonging community.
In our own church we are offered many opportunities to embrace belongingness, almost every day of the week— through children, teen and adult education sessions, Wednesday's morning men's Bible study, evening family suppers, choir opportunities, participation service by flower delivery, Deacon food basket ministry, IHN engagement as well as various committees. Be quick to serve others, for in giving of your time and talents, you will receive and foster your strength in belonging.
It takes strength to choose to belong. When you see your connection to others, you begin to know that all God's people have joys and struggles. As part of the church family, in experiencing that sense of belonging, you are not alone.
Elder Rebecca Castellanos
---