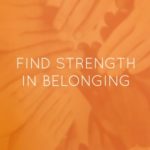 WAY #20: FIND STRENGTH IN BELONGING. At FPCM, you're loved and valued. Claim us as your family. Rather than withdrawing, allow struggles and disappointments to deepen your sense of belonging. Pray for chances to bring healing to relationships. Please be patient! God isn't yet finished with us or with you. Romans 14: 7-9, Acts 2: 46, Matthew 12: 25
Nadia Boltz Weber is the Pastor of a Lutheran congregation called The Church of All Saints and Sinners located in Denver. She is a former volleyball player who stands 6 feet tall and is covered with tattoos. Her church welcomes former prison inmates, drug users and some of the political leaders of Denver. Her one-of-a-kind church is alive and vibrant and wonderful.
But Nadia Boltz-Weber knows something about her church what I know about ours: it's filled with wonderful but broken people. We are not the First Presbyterian Church of Well People in Moorestown. Pastor Nadia's congregation frequently hosts a Welcome Brunch for the many guests and visitors who are drawn to this special church. There Pastor Boltz-Weber speaks to her guests: "I'm glad you love it here, but at some point, I will disappoint you or the church will let you down. Please decide on this side of that happening if, after it happens, you will still stick around. Because if you leave, you will miss the way that God's grace comes in and fills in the cracks of our brokenness. And it's too beautiful to miss. Don't miss it."
Way 20 of our Ways is a plea to stick around and stay with us. There is an ancient vow from Saint Benedict that underlines this statement of the culture we're seeking to create here. In the sixth century, Benedict created a set of guidelines or rules for men who were led to join his monastic community. The brothers at Holy Cross Monastery in New York still follow a version of Benedict's Rule. In addition to the three vows or promises monks make—poverty, chastity, obedience—Benedict added a fourth: stability. Simply put, the vow of stability is a promise to stay where you are. "Do not . . . run away from the road that leads to salvation," Benedict wrote.
It's hard to stay sometimes. Our feelings will get hurt. We won't get our way. Decisions will be made that will boil our blood like our morning coffee. Sometime, someone will say something hard or thoughtless to you. You'll get your heart broken here. It's hard to stay but it's better that you do. The practice of stability grows strength within you and within our congregation. It sends a powerful message these days. We promise that we're not going anywhere. We love God and we love our church and we're serious about patience. For we are joyfully certain that God's not done with us or you yet.
Stuart Spencer, Pastor
---