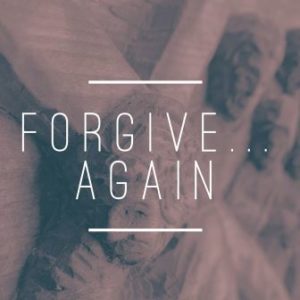 #6. FORGIVE . . . AGAIN Just as God forgives us, heal relationships by extending forgiveness with grace and generosity. Forgive everyone everything. Start by praying for those you resent or hate. Ask for every blessing you would want for the one you're struggling to forgive. Scriptures: Matthew 6: 13-14; Ephesians 4: 31; Colossians 3: 13
"The Bible connects our duties as saved people with the acts of God and Jesus Christ. The small word 'as' often serves as the link. 'Love one another as I have loved you' (John 15: 12). 'Just as the Lord has forgiven you, so you also must forgive' (Colossians 3: 13).
Robert Roberts says that forgiveness means letting go of anger we have a right to. To do this takes a lot of spiritual muscle, and the job is impossible for people who themselves feel unforgiven. But forgiveness is the soul of our life together. We are forgiven to forgive." – Cornelius Plantinga Jr., Beyond Doubt: Faith-Building Devotions on Questions Christians Ask
The next time you pray the Lord's Prayer slow down when you say, "Forgive us our debts as we forgive our debtors." Are you hearing what you are praying? I hope so — for your sake and for ours as a Church Family. Each week, at least; and more like several times a day, I need God's forgiveness. This is I know. But for me to only ask for forgiveness while not giving it is to pray only the first half of that sentence. I have to forgive those who have hurt me in real or imagined ways if I want to be free and stay free.
This is not easy to do. You need a community who is deeply committed to forgiveness as a natural and necessary way of life. Here at First Pres you have that community. This means that we regularly confess our sins as we regularly forgive one another. We pray for our enemies including those we resent or hate. We learn about forgiveness and seek help if we don't know how to do it. We talk about and model forgiveness for our children and the children and youth of our congregation. We encourage each other to forgive everyone everything.
I hope this particular Way catches on like the dry wood in your fireplace so that First Presbyterian Church radiates the warmth of love and the freedom of forgiveness.
---