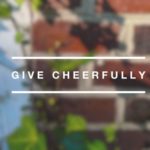 WAY #16 GIVE CHEERFULLY
"Give Generously" A MILESTONE in my family's corporate spiritual life occurred early in my college years. My parents were struggling to pay my college fees, even selling family heirlooms, and had cut back from giving a full 10% tithe. But after study and prayer, the couples in their small group all decided to give a full tithe to the Lord, and trust Him to provide their needs. The next day my dad's boss called Dad into his office, and gave him a raise, a bonus, and a company car. For the rest of his life my mother, herself a generous woman, sometimes had to restrain him, because 10% was never again enough for Dad.
That's a great story, and Scripture may back it up. In Luke 6:38 Jesus says, 'Give, and it will be given to you. A good measure, pressed down, shaken together and running over, will be poured into your lap. For with the measure you use, it will be measured to you.' God definitely makes this promise.
The context of Jesus' words is not just about material gifts. Verses 37 and 38 instruct us not to judge or condemn, or we court condemnation; to forgive, so that we may be forgiven. In vss. 27-37 Jesus calls us to do purposeful good to those who dislike and berate us; to give love and help to people whom we know will not be able to re-pay us; to be kind to ungrateful people; and to bestow the mercy we have received from God on others.
What a time this is to comfort others with the comfort we have received in Christ! Yes, by all means, give generously to the church, so that we may continue to worship together, support our missionaries and supply the needy in our community; give generously to ministries such as Urban Promise, whose staff daily helps the people of Camden. How better to spend our material wealth? But also give generously of comfort to those who are alone; of forgiveness to those who are on the stressful front lines and may not always have time for pleasantries. Grab the initiative; reach out and communicate.
We have an opportunity. C S Lewis wrote that 'the cross comes before the crown'; and 'a cleft has opened in the pitiless walls of the world, and we are invited to follow our great Captain inside.' 'There are no ordinary people. You have never talked to a mere mortal.' Each person we encounter—whether across the street, on the phone, or by Zoom—is moving closer or farther away from God. We may assist or deter them. The kindness, generosity, and forgiveness we express must be real, and may be costly, but life in Christ is inexhaustible.
Lissa Herman
---