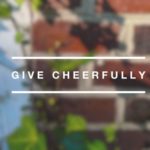 WAY #16. GIVE CHEERFULLY. Rejoice, you get to give! Think of giving as a privilege rather than an obligation, a joy instead of a burden. As you consider all that's been entrusted to you—time, abilities and money—ask, "How is God calling me to share what I've been given?"
Read 2 Corinthians 9: 7; Luke 6: 38
Friends, Consider giving your time, talents, and financial resources to the church. It is the constant refrain this time of year. When we are generous with our time, it shows in the quality of our relationships, at work, family, church, etc. If you are generous with your talent, I suspect that the same outcome would apply – better relationships in every endeavor. If you are generous with your financial resources, shouldn't this also be the same? The difference is that when you are generous with your financial resources in your church relationship, it is one way that you are expressing your generosity in your faithful relationship to God.
The act of giving requires a leap of faith for some. Throughout our stewardship program we highlighted different testimonials from Brian Perkowski, Steve Shaffer, Jeff, and Jenny Legath that all echoed a similar theme — that it was difficult in the beginning. Still, they got themselves into a place of trust, and when they turned their financial resources over to God, things changed, and their lives turned in a decidedly positive direction.
There aren't any guarantees that your giving will lead to a successful outcome. A challenge has been issued to consider a small increase in your giving and see if you don't experience these positive ways that the Lord will work similarly in your life. So, here is my final challenge for this stewardship campaign, if you are not currently active through the church's many programs, find something that suits your specific talents and become engaged in the work of the church. Our church is always seeking intelligent and hard-working people. It has been a great experience serving our church in this stewardship capacity because I'm able to get a firsthand view of all of the great work that is done by our church staff, its lay leadership, and the many people who generously give their time. Thank you in advance for another terrific year!
Elder Mike Baker
---