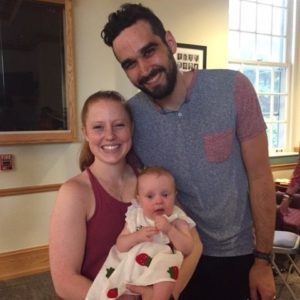 I cannot believe that it has been 8 years and I can't begin to figure out how to say "Goodbye."
To each of you: Thank you for the gift you have been to me and my family. In your constant and overwhelming support throughout my ministry here, this church family has been my foundation and my safety net.
To the families who have trusted me with your kids: Thank you for allowing me to partner with you in such an important task. It has been my great honor and blessing to be a part of the faith stories of your children. I should have said this more, but "You should be so proud of them and of how you have raised them."
To the Middle Schoolers and High Schoolers, who to the bemusement of those around me I always refer to as "my kids." You have been some of my closest friends and my family here. There are a million times we have laughed, gotten injured, experienced God, jumped until Joel's ceiling cracked a little, hit that perfect prayer clap, cut open stuffed animals, or ruined our socks playing handball too hard. Thank you for your trust. Thank you for your friendship. Thank you for your questions and for your continual search for God. Thank you for being a family to worship with and to encourage each other. Here is my last encouragement to you: Continue to draw near to Him, and God will draw near to you. Here at FPC, you have a family of other teens who love and care for you, parents and other adults who are fighting for you, and a safe place to meet God and question things. Use everything you've got to draw close to Him so that you might get to know the surpassing joy of a life lived with Christ.
I love you guys and I will miss each of you. Dan Wonneberger
---