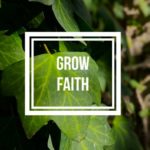 WAY #14 GROW FAITH "Someone who knew what he was talking about once remarked that pain was the touchstone of all spiritual progress." – Bill Wilson, The Twelve Steps and Twelve Traditions
WOULDN'T IT BE WONDERFUL if our faith in Christ grew best when we are at our best? What if faith grew strongest when we had it all together: when we loved the way we looked and felt like a million bucks, when everything was just right in our families, our marriages, our jobs and the world? You know the answer. If everything had to be aligned perfectly a) you probably wouldn't be thinking about God and b) perfect never comes.
Bill Wilson, co-founder of Alcoholics Anonymous, discovered the truth about how faith grows. As most plants require dirt to grow, so faith requires pain to grow. I might learn a lot from a Bible study or by reading a great book on theology but nothing has helped my dependence on God deepen like a crisis or a challenge. Ten years ago, my wife Leslie was diagnosed with an early form of breast cancer. Her doctors told her it was aggressive and she would need to undergo surgery and chemotherapy. Soon one surgery became three surgeries, and radiation therapy followed chemotherapy. Our boys were young then. I was, to be honest, overwhelmed with concern for my wife and our family.
One day, about four or five months into her treatments, I was talking with a man at my former church named Ron Cronise. Ron was a cancer survivor. He said to me, "This experience you're going through is going to strengthen your marriage and deepen your faith in God." OK, I thought, that's a good thing to remember. That same evening, I drove to a meeting here at FPC Moorestown. Bill Walker was there and his wife, Debbie is a breast cancer survivor. Bill looked at me and said, "This experience you're going through is going to strengthen your marriage and deepen your faith in God." Bill Walker and Ron Cronise don't know each other, though they said the identical thing I needed to hear. God used those two men to speak a word from God to me as clear as any I've heard. Bill and Ron were right. Leslie and I grew much closer and my faith went deeper than it had before.
Why is pain a necessary ingredient for spiritual growth? I think it's because pain drives me to my knees. Pain forces me to ask for support from my closest friends. Pain breaks any illusion that I can manage my life apart from God. God is the user of pain.
We're in painful times right now as a nation and world; and the pain could linger for a long me to come. Could these days be rich spiritual growth days for us? I pray that will be the case. This Way encourages you to take advantage of every opportunity you can find to Grow Faith. Don't forget that pain is the touchstone.
Stuart Spencer, Pastor
---