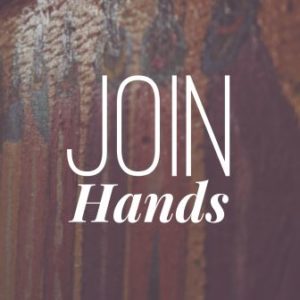 #10: JOIN HANDS.
Work as a team. Collaborate with each other, our professional staff, our lay leaders, and our congregants to find the best solutions. Collaboration lightens the load, generates better ideas than individuals working alone, and unleashes the gifts God has given us all.
Scriptures: Ecclesiastes 4:9; Proverbs 27:17
JOIN HANDS! What do you think of when you hear this phrase? For me, it summons an image of people linking arms, standing side-by-side, connected by a greater purpose that serves the common good. I see volunteers in rain boots handing sand bags down the line as flood waters rise. The White Helmets (an NGO search-and-rescue team in Syria) digging through rubble to save a crying child who's survived the latest bombing. It's men and women walking across the Edmund Pettus Bridge in Selma, Alabama on March 7, 1965 as part of the Civil Rights Movement, hoping to achieve fair voter registration and being brutally punished for their courageous pursuit of justice. These are key moments of collaboration and selflessness, when people from different walks of life dedicated their time, energy and talents to transform the lives of people they knew and those they didn't.
This happens on a local scale, too. In the last week, I've encountered awesome reports of how FPCM has worked as a team to unleash God's gifts. A friend told me how her family received meals from our church for several weeks when they were going through a rough time. Old and new small group leaders stepped up to host Lent groups and pour God's love into others. Dozens of folks helped organize FPCM's 102nd Rummage Sale with great success, while students from youth group carried load after heavy load to people's cars throughout the night.
When you join hands, your mentality expands from "Life is about me" to "Life involves all of us." Joining hands allows us to drop our anxious agendas and embrace God's purposes. Letting go of our anxious agendas is something we all struggle with. No wonder "do not be afraid" is one of the most common phrases in the Bible. God is constantly speaking to us, inviting us to join hands with the One we can trust.
So take heart. Maybe a few deep breaths. Lean into God's possibilities for your life. Make history with those around you. Join hands.
–– Kelly LePenske, Pastoral Associate
---