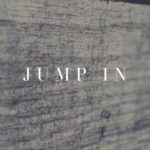 #8: JUMP IN. Life is full of unexpected problems and needs, large and small. Pay attention to moments when God calls you to action, no matter how ordinary or extraordinary the situation may be. See "disruptions" as invitations to share Christ's love. Write a note. Visit the sick or the grieving. Share a meal.Scriptures: Micah 6: 8; James 2: 14-17; 1 John 3: 18
Jump In!!! Where have you jumped in or seen others jump in? I have been blessed by being involved in two projects here at First Pres where I've seen many Jump In.
Celebration of Faith Weekend – Just over a year ago our church held a weekend to understand and celebrate our faith. What started as a small nucleus of eager committed participants soon expanded into seven committees and over a hundred volunteers. All Jumping In. We had visitors from around the country come and speak to us in small groups, over meals and during services. Members hosted these visitors in their homes, held Saturday coffees, organized two dinners, a luncheon for women and one for men, and a Friday and Saturday worship service. The preparation that went into these events by the committees and volunteers was tremendous, driven by prayer and God's hand. A joyous and meaningful weekend attended by hundreds took place due to volunteers and attendees whose faith and enthusiasm never wavered – all willing to Jump In.
Live Streaming – A few years ago I chaired the church's Technology Committee when it was decided to live stream our Sunday services so that anyone anywhere in the world could view them. There was no budget and it was technically complex. Live Streaming happened, but only because many Jumped In. We needed a camera – our IT person Jumped In and donated it. We needed fiber optics – a committee member Jumped In and got two companies to donate and install what we needed. They Jumped In nudged by God. One obstacle though was that the wiring needed to go under the Sanctuary in the crawl space. Dan Wonneberger said he would do it; that is, he not only Jumped In, he jumped under (the Sanctuary). That's how we ended up with Live Streaming – all willing to Jump In.
From 1 John 3:18 Dear children, let's not merely say that we love each other; let us show the truth by our actions…
Sunday, September 8th, is our Fall Kickoff Sunday; classes start, we return to regular service times, we present Bibles, commission our teachers and enjoy a Front Yard Fellowship BBQ after church. Jump In!
Elder Hank Heidler
---