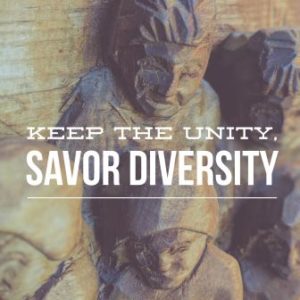 #7 KEEP THE UNITY, SAVOR DIVERSITY. Thank God that, like parts of the human body, we're not all the same. Be open to learn from others, regardless of their age, background, experience, or tenure with our church.a We make better decisions and grow as people when we consider multiple perspectives.b Listen with curiosity to others and consider how to use their ideas.c
a Make every effort to keep yourselves united in the Spirit, binding yourselves together with peace. For there is one body and one Spirit, just as you have been called to one glorious hope for the future. (Ephesians 4: 3-4)
b How good and pleasant it is when God's people live together in harmony! (Psalm 133: 4)
c Don't think you are better than you really are. Be honest in your evaluation of yourselves, measuring yourselves by the faith God has given us. Just as our bodies have many parts and each part has a special function, so it is with Christ's body. We are many parts of one body, and we all belong to each other. (Romans 12: 3-5)
In 1940, George Reavis the Superintendent of the Cincinnati Public Schools wrote a fable called the Animal School.
Once upon a time the animals decided they must do something heroic to meet the problems of a "new world" so they organized a school. They had adopted an activity curriculum consisting of running, climbing, swimming, and flying. To make it easier to administer the curriculum, all the animals took all the subjects.
The duck was excellent in swimming. In fact, better than his instructor. But he made only passing grades in flying and was very poor in running. Since he was slow in running, he had to stay after school and also drop swimming in order to practice running. This was kept up until his webbed feet were badly worn and he was only average in swimming. But average was acceptable in school so nobody worried about that, except the duck.
The rabbit started at the top of the class in running but had a nervous breakdown because of so much makeup work in swimming.
The squirrel was excellent in climbing until he developed frustration in the flying class where his teacher made him start from the ground up instead of the treetop down. He also developed a "charlie horse" from overexertion and then got a C in climbing and D in running.
The eagle was a problem child and was disciplined severely. In the climbing class, he beat all the others to the top of the tree but insisted on using his own way to get there.
There's much learning for us in this story and this Way of Week. God has purposely placed you in this Church Family. We need you and you need us. When you're operating in your sweet spot—out of His natural giftedness in you—delight will be yours and God will be greatly pleased and glorified.
---