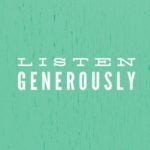 WAY #3. LISTEN GENEROUSLY.
Be quick to listen and do so with your undivided attention. Minimize the distractions and let go of the need to agree or disagree. Suspend your judgment and be curious to know more rather than jumping to conclusions. Above all, listen to understand. Scriptures: James 1: 19, 20; Proverbs 18:13; Proverbs 12:15
IF YOU'RE ANYTHING LIKE ME (aka human), chances are high that you've interrupted someone, raised your voice when you've lost your patience, or you've jumped to conclusions before hearing the rest of the story. We resort to this kind of behavior not because we want to, but because we're so wrapped up in ourselves. Our time. Our agendas. Our egos. Our pain.
What would happen if you slowed down for a moment to cherish the person in front of you? What if you surrendered the need to be right or to get your way? What if, instead of treating someone as a means to your end, you simply treated them as a person deeply loved by God? If this sounds too difficult, maybe a good place to start is by remembering that God deeply loves you, even on your messiest days.
In 1 Samuel 1, a depressed woman named Hannah goes to the temple to pray. It's the same temple where Eli works, the local high priest. Hannah's been unable to have children for years, and because others have mocked her for just as long, she's deeply depressed. When she begins to talk to God, praying passionately but quietly, Eli watches her from the sidelines. Instead of showing Hannah pastoral compassion when she's visibly upset or listening to understand, Eli interrupts her prayer. Surely her mumbling confirms that she's drunk! And there's no room in the temple, or on Eli's watch, for a woman like her.
When Eli confronts Hannah, she tells him the rest of the story: "No, my lord, I am a woman deeply troubled; I have drunk neither wine nor strong drink, but I have been pouring out my soul before the Lord. I have been speaking out of my great anxiety all this time." Man… even high priests get it wrong sometimes! And so do we when we're quick to dismiss the person right in front of us. Listen generously this week. It could transform someone's heart, even your own.
Kelly LePenske
---