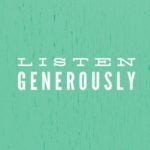 WAY #3. LISTEN GENEROUSLY. Be quick to listen and do so with your undivided attention. Minimize the distractions and let go of the need to agree or disagree. Suspend your judgment and be curious to know more rather than jumping to conclusions. Above all, listen to understand. (James 1: 19, 20)
Listen generously . . . or else! I've come to believe that as I stop listening I'm probably going to start hurting. I'm more likely to lose my composure when I'm not listening. I'm far more inclined to say a wrong or stupid thing when I'm not listening. I'm certainly in a great position to say or do something I regret.
Listen generously . . .and watch the healing flow! When I'm listening well to Leslie or my sons, we're always in a better place as a family. My best listening happens when I'm face-to-face with the other—no phones, no laptops, no newspapers and no TV between us. Listening draws me into the one I love. There are few better gifts to give than generous listening.
Stuart H. Spencer, Pastor
---