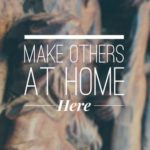 WAY #11 MAKE OTHERS AT HOME HERE An observation of hospitality and more: As my father neared to depart for his glorious voyage, he was hindered by 98 years of wear and the struggle to stem its effects. Dad's stamina was weakened, his mental acuity more limited, he often drifted between awake and asleep. Greatly evident though was the near miraculous energizing effect when he would greet people.
This was at home and especially at church. Dozens were encouraged by his presence there and the light that seemed to radiate from his countenance when engaging people. That Dad was energized by greeting people was very evident and I believe he received great joy from it. I don't know if this gift is so obvious or even evident for all of us. But the apparent essence of Jesus' love is that He chose us over Himself. Going out of our way to greet those we know, but especially those we do not know, seems a very modest, but essential first step in being loving; choosing someone else's needs over our own even if for a very brief moment.
I know I need to be in prayer for those that will come to visit. To pray for peace. Pray for awareness to be able to recognize what is before me. Pray for the motivation to step forward into action. Pray for those that would come along side. To pray for receptive hearts.
I think I'm going further than just greeting the newcomer at church in this, but in all things, as Ed Gross recently instructed, follow the instruction of Luke 10 and especially verse 2: … "Pray earnestly…" This is the first instruction Jesus gave to the 72 disciples that He sent out ahead of Himself. They accomplished amazing things in His name.
As with most things Spiritual, the unexpected joy that we receive is typically greater than that which we give.
Elder Pete Honeyford
---