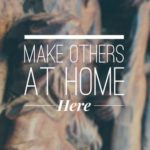 WAY #11: MAKE OTHERS AT HOME HERE.
Warmly welcome newcomers and visitors. Offer your name with a smile. Reach out and greet the person you don't know after worship, during Coffee Hour, in Youth Group or Sunday school. Show a genuine interest in others. "Welcome one another, therefore, just as Christ welcomed you, for the Glory of God." – Romans 15: 7
DEACONS ARE TRUE servants of the church, here to make sure others are taken care of is at the heart of who we are. This can be done in small ways: a simple greeting as you enter church. Or, by actually welcoming families into our church for a full week through IHN. We host different families 6 times a year and take care of all matters, large and small, during their stay. That could be simple fellowship, making a meal to share, or providing transportation if needed. We do what we can to make sure they feel at home.
We also take the welcoming spirit outside of our church walls. If home is where the heart is, we bring that heart to others via "food baskets" for Thanksgiving, Christmas and Easter. We are blessed to be able to deliver 12 bags of groceries to local families during these Holidays.
On occasion we have the opportunity to make a difference for a congregant, or someone tied to our church in some way. These instances are truly gratifying. If you are aware of someone who is in need of being "welcomed," please let us know how we can help. If you would like to help, Deacon's Sunday will be November 17th and we would welcome any support.
Matt Moxhay, Deacons Moderator
---