Discipleship at FPC Moorestown
Did you realize that the word "Christian" only appears three times in the New Testament while the word "disciple" appears more than two-hundred and fifty times? Not once did Jesus ever speak the word "Christian." Disciple may well be the biblical designation of choice for those who follow Jesus.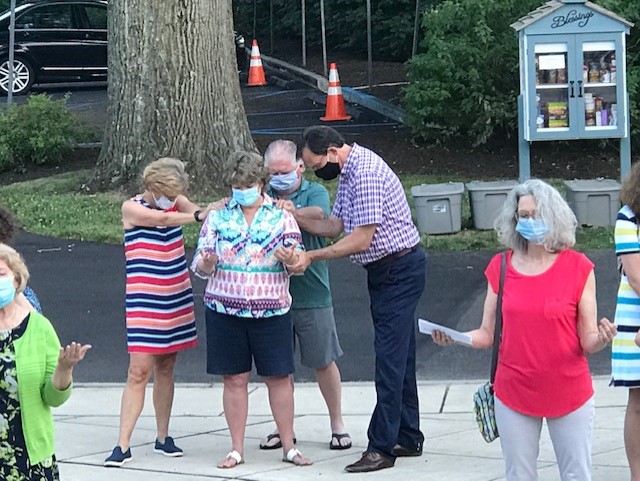 In the first century, disciples did five things.
First, a disciple memorized their teacher's words.

Second, a disciple learned the way their teacher thought and lived.

Third, the highest goal of a disciple was to imitate their master in thought, speech and behavior.

Fourth, disciples made other disciples.

Fifth, disciples submitted totally to the will of their Rabbi or Teacher.
Are you a fan of Jesus or are you a follower of Jesus?
Use those five points as a checklist: Have you memorized the teachings of Jesus? Have you learned Jesus' thinking and way of life? Do you speak as He spoke and go to the kinds of people He sought out? Do you make disciples? Are you ready to fully obey Jesus and His commands with a spirit of total submission?
Many of us are seeking to follow Jesus as a disciple. We've been challenged by what Pastor Kyle Idleman wrote in Not a Fan, "I think Jesus has a lot of fans these days. Fans who cheer for Him when things are going well, but who walk away when it's a difficult season. Fans who sit safely in the stands cheering, but they know nothing of the sacrifice and pain of the field. Fans of Jesus who know all about Him, but they don't really know Him. The biggest threat to the church today is fans who call themselves Christians but [who] aren't actually interested in following Christ. They want to be close enough to Jesus to get all the benefits, but not so close that it requires anything from them."
For us, this calls for a new way of approaching and living our spiritual lives. This means, we're praying a lot, we're studying and reading, and we're doing it together. We're not perfect and we don't think of ourselves as better than. We want to know and love Jesus more fully and deeply. We also want to be available to serve others in our community and world and our congregation. We invite you to join us as we follow him.