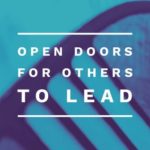 WAY #13 "Open Doors for Others to Lead"
THINGS HAVE BEEN FLIPPED upside down with COVID-19 precautions and during change we tend to hold onto things so that we can feel some semblance of control. Well, that's not the way of someone who follows Christ. We are not called to a life of comfort, we are called to a full life.
I was recently talking with some people about how capable (or arrogant, if you prefer) I am and how I manage to get everything done that I need to, and it tends to get done well. Now I don't feel like I'm alone in the way I view myself. If we are honest, our church is full of extremely capable people living very efficient, successful lives, but again, that is not the way of a Christ follower. In the beginning we see the most capable and successful person ever (God) divvy up responsibilities and giving other people (who fail) a chance to be part of something great. Here is the terrifying part. That is the model we are supposed to follow. Those who feel capable and best suited for every task (here's my ego again) need to hand over the reigns. We need to share our responsibilities with others because of a two-fold blessing. We share responsibilities then our work load gets lighter, and secondly others get the joy of being part of something. It is time to pass the torch.
Now don't be like me and hold onto things because you think someone would fail. That doesn't matter. God doesn't care about failure so neither should we. God gives opportunities for success, so should we. If you've been doing something for awhile, hand over the reigns, but don't walk away. Offer advice when it's asked for. Be patient as people grow into new opportunities. Be ok with failure. One person's screw up isn't going to derail God's plan.
Here's some practical thoughts considering our current COVID-19 condition. Small group leaders: start a group chat and let everyone chime in, don't lead, facilitate. Parents: allow your child to take ownership of their learning, do not micromanage or snowplow, but do encourage. Bosses/Managers: ask the people under you to tackle those projects that you just never get around to and let them do their thing. Those can all be pretty terrifying things to do because we have to let go of control and be ok with failure, but hey, who should we trust more, ourselves or God? And if you are not at that point in your faith, no shame, but look at it this way. Everyone is in uncharted waters so you might as well try something new.
Dave Fauvell, Interim Youth Director
---