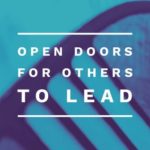 WAY #13 OPEN DOORS FOR OTHERS TO LEAD. Encourage others to step into leadership by sharing responsibilities and mentoring. Let go of the jobs you've always done, and allow new leaders to emerge. Remember that our youth and young adults are not the future but are vitally important to our present.
"Therefore, go and make disciples of all nations, baptizing them in the name of the Father and the Son and the Holy Spirit. Teach these new disciples to obey all the commands I have given you. And be sure of this: I am with you always, even to the end of the age." (
Matthew 28:19-20
)
I have been blessed to have parents who believed that their children be given an opportunity to lead. I have been member of the church since I joined in high school, a long time ago! I have seen and been involved in many aspects of church life, but I did not have to wait until I was in middle age or older to have the opportunity to serve on the many boards of this church. A session member reminded me that my Dad was always encouraging session to have the younger generation serve. In my other life, coaching and officiating, I have involved high school students in the youth field hockey program as coaches. As an official, I have been mentored throughout my career and now mentor the new officials.
Lately I have tried to encourage the Nominating Committee to look for younger members for the many boards. So, if asked, please consider answering yes. You will have the opportunity to meet different members of the congregation, and you will learn so much about the rich history of our church and help First Pres continue to be inter-generational. Allow God to lead you to serve. Also, encourage your friends and neighbors to get involved on a committee as an ad hoc member. Let the chair of the committee know you would like to serve; most committees can use additional volunteers willing to learn and put in the time. It doesn't take a lot of time and your life will continue to be blessed. When the Nominating Committee asks the congregation to nominate people for the boards of the church, get to know the younger and new members of the congregation, inquire and encourage them to serve and then nominate and mentor them.
"Don't let anyone think less of you because you are young. Be an example to all believers in what you say, in the way you live, in your love, your faith, and your purity." (
I Timothy 4:12
)
I have served on the boards of many organizations over the years, and each board has greatly enriched my life and taught me so much. At the time, I did not see God's hand in these opportunities, but looking back He was guiding my path, as He always does, by surrounding me with strong men and women of Christian faith. In closing, I hope I can encourage all of us to embrace and support those that are just starting out on boards and committees here at the church and give them the same opportunities that I was given many years ago. I pray we will continue to look to the next generation to carry the torch.
Trustee President Ginny Weber
---