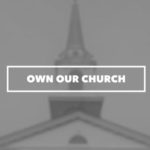 WAY # 12 OWN OUR CHURCH
THE BOARD OF TRUSTEES, along with many staff members, has been working over the past couple of years to begin to claim ownership of the facility and grounds. Through many generous bequests and donations, the Trustees, with Session approvals, have begun these upgrades. In deciding the priorities, the safety of the congregation and staff was first and foremost. The total replacement of the parking lot last summer was a major project, and many thanks go out to the congregation for weathering the longer than proposed disruption. Upgrades to the security systems, including cameras in the children's wing and common areas will attract younger families. All locks in the building were changed and a new key distribution system was implemented. Change is difficult, but we are thankful for such a caring and understanding congregation and staff.
The Sanctuary and narthex, as well as many other parts of the building, have been painted. The Sanctuary was last painted over 30 years ago and the stairway to the choir loft has not been painted in at least 50 years. New carpeting was installed in the Miller Commons lobby and will soon be replaced in the narthex and church halls. How many remember the black and white tile in the narthex, or the wood stairs leading to the choir loft that one might have raced up and down as a child? A new sound system was installed in the Sanctuary and speakers are being added to the choir loft. Most of you probably never noticed the conduit that is now all hidden in the narthex and church. Also, the leak in steeple has been finally been fixed to protect the organ and choir loft. The annual Trustee work day, in coordination with "The Church Has Left the Building," planted hundreds of tulips and daffodils and spruced up the flower beds around the church and cemetery. The Wong Garden was completely redone with a waterfall constructed by someone wanting to give back. Trees in the cemetery were trimmed, dead trees on the property removed, and additional work is still to come.
All the graves in the cemetery were lifted and leveled by an anonymous donor; take a stroll after church some Sunday and see the newly constructed garden around the Cross. There are still additional items on the to do list; new windows in the Christian Education building, exterior painting of the building and steeple, bathroom upgrades in the Christian Education wing and all knob and tube wiring to be removed in the house.
These are just a few of the many projects that the Trustees and staff have undertaken over the past couple of years to reclaim ownership of our property. The church has been enriched by those that have gone before us and donors, at a critical time in our history. We have truly been blessed by God.
Ginny Weber – President, Board of Trustees
---