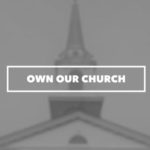 12. OWN OUR CHURCH. The work of the church isn't defined by pastors and staff alone; it comes from each member actively participating in the life of Jesus Christ. Claim ownership of FPCM's mission, programs, and property. Each is an expression of how God is working among us! Support others. Be informed. Volunteer for a new role. Live like you're the church — because you are! "The work of the church isn't defined by pastors and staff alone…Live like you're the church, because you are."
This excerpt from our FPC WAYS booklet is true for involvement in a church and many other organizations. As a college freshman, I joined a fraternity. After pledging, I chose to be a "Social Member", coming to the house periodically and going to parties and dances. I was friendly with the brothers and pledges, but didn't get to know any of them very well. I participated in one "work day", and came to business meetings, but I really wasn't in touch with house issues. I was a good Social Member, but not a "great" brother.
In my second year, I moved into the house and was immediately immersed in the life of my fraternity, helping brothers move in, redecorating my room, and supporting the Rush Committee. I ate, slept, studied, played intramural sports and (yes) partied with my brothers. I loved being a brother and called the chapter house my home. I was an active member, but not yet an Owner.
Later, I became Pledge Chairman – responsible for both rushing and training our "newbies." While in this post for two semesters, I developed a deep relationship with our 30 new members. As an officer, I was involved in planning and executing house maintenance, social events, intramural sports, and community service programs. By the end of that year, I felt a strong level of commitment to my brothers and pride our activities. I had come to OWN our fraternity.
My experience at IBM was similar, where, as a trainee, I would ask "Why do YOU (meaning the IBM company) do that? After a year, I asked "Why do WE do that? It was a subtle change of the phrase, but it reflected that, I had become an Owner of IBM (one of 300,000). My church life has followed this familiar path, as I transitioned from a new member to an active member (helping the church leaders), to taking ownership for some part of church life as a Deacon, Trustee, and finally Elder.
Taking ownership for these organizations has meant making a larger commitment of time to work with, and for, the other members. Being an Owner has helped me better serve the organization, and get more satisfaction from my involvement. So, in the final analysis, Ownership is its Own reward. As brothers and sisters in Christ I hope you will Own Your Church and receive the rewards I have.
Elder Paul Grossmann
---