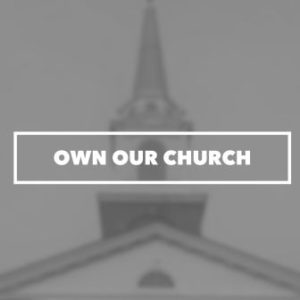 #12: OWN OUR CHURCH. The work of the church isn't defined by pastors and staff alone; it comes from each member actively participating in the life of Jesus Christ. Claim ownership of FPCM's mission and programs. Each is an expression of how God is working among us! Support others. Be informed. Volunteer for a new role. Live like you're the church — because you are!
a All of you together are Christ's body, and each of you is a part of it. (1 Corinthians 12: 27)
b This makes for harmony among the members, so that all the members care for each other. If one part suffers, all the parts suffer with it, and if one part is honored, all the parts are glad. (1 Corinthians 12: 26)
I have a friend who managed oil refineries for his career. One thing he heard often on the floor of the refineries were statements with the word "they". "They need to fix that door. They need to be better organized. They need to work harder." My friend made buttons and distributed them to all of his employees. The buttons simply said, "I am they."
Our Way of the Week is a chance for you to put on this button. Stop waiting for they. You are they and you will make this church stronger, healthier, and better when you do. If someone needs to be loved and comfortable, do it. If someone could use a back of freshly made chocolate chip cookies, bake them. If someone needs a ride somewhere, give it. If our giving needs a boost, write the check. Don't wait for they any longer. You are they.
In a wonderful book on leadership called Lessons in Leadership Rabbi Lord Jonathan Sack, former chief rabbi in England, Sack says of leadership but also for us, what it means to own our church. "A leader [or a member of FPCM] is one who takes responsibility. Leadership is born when we become active rather than passive, when we do not wait for someone else to act because perhaps there is no one else—at least not here, not now. When bad things happen, some avert their eyes. Some wait for others to act. Some blame others for failing to act. Some simply complain. But there are people who say, 'If something is wrong, let me be among the first to put it right.; They are leaders [and members of FPCM]. They are the ones who make a difference in their lifetimes. They are the ones who make ours a better world."
Stuart Spencer, Pastor
---