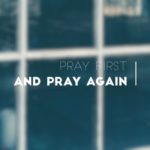 #9: PRAY FIRST AND PRAY AGAIN.
Ask first for God's guidance and blessing in everything you do. Through prayer, ask for wisdom and for God's will to be done. Pray for others as well, that God's love and blessing would be revealed to them in good times and in bad.
Scriptures: Proverbs 3: 5-6; Matthew 6: 10; Ephesians 6: 18
There are many ways to pray. You can follow a prescribed order, like ACTS:
A – Adoration – tell God how much he means to you
C – Confession – name your sins
T – Thanksgiving – tell God how he has blessed you
S – Supplication – pray for the needs of others
Prayer, talking with God, can happen at any time, in any place. I find that the red light turns faster when I use the time to pray The Lord's Prayer. If I am annoyed by another driver I try to pray for them, asking that they get where they need to go safely. It calms me down. When I have trouble sleeping I often pray the alphabet – asking God to bless the person or place that comes to mind as I work my way through the ABCs. Lately I have used the same format to name my blessings. I toss and turn less, letting God take over my thoughts. A simple "thank you" at the beginning of a meal is a great appetizer!
Several years ago I heard about PUSH – pray until something happens. I prayed for years about something, and finally was blessed with understanding. I am learning to trust Him, and lean on Him when I am worried or disappointed. Sometimes the answer to my prayer is getting a different attitude. I find I worry less when, instead of telling God what I want, I put an issue in His hands, and ask for guidance and patience. A joy shared is multiplied, a worry shared is halved. Talk to God. He is a great listener!
Jane Murphy
---