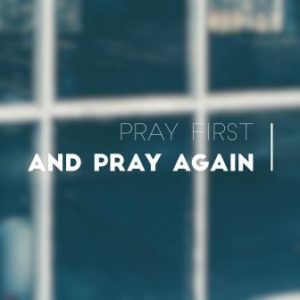 #9: PRAY FIRST AND PRAY AGAIN. Ask first for God's guidance and blessing in everything you do. Through prayer, ask for wisdom and for God's will to be done. Pray for others as well, that God's love and blessing would be revealed to them in good times and in bad.
Scriptures: Proverbs 3: 5, 6; Matthew 6: 10; Ephesians 6: 18
When we look at different scenes from Jesus' life, from his public ministry involving great crowds to his quieter moments of solitude, there's a common denominator beneath them all–– prayer. No matter who or what he's facing, Jesus prays constantly and without hesitation. Jesus prays during his baptism. He prays through the night before choosing his twelve apostles. He prays in ordinary villages over ordinary things, like five loaves of bread and two fish that ultimately feed 5,000 people. And he prays in extraordinary moments of crisis, too. Jesus seeks God before he is betrayed and arrested thanks to Judas Iscariot, and Jesus prays while he endures the torture of crucifixion.
In all four Gospel accounts, Jesus can be found praying and teaching others, including us, about turning to God in every situation. We especially see this in Luke, where prayer is discussed more than the other gospels. The first time we witness Jesus praying in Luke is during his baptism in chapter 3, which sets the stage for chapter 4––Jesus' forty days in the wilderness. Despite the devil doing his best to drive a relational wedge between Jesus and God, the devil fails every time! So why does the devil lack influence? The answer is as simple as it is profound: prayer. Jesus seeks God's wisdom so regularly that, like a professional musician who's developed perfect pitch through years of practice, Jesus can discern the right notes from those that are flat and misleading. Jesus can distinguish God's voice of truth and life from the devil's subtle tones of deceit and death.
As you cross the threshold of Lent and enter your own forty days of reflection, it might be worth asking: Whose voice are you listening to these days? Can you hear God's voice of truth and hope for your life? "We are unlikely to be tempted in exactly the same way as Jesus was," notes theologian N.T. Wright, "but every Christian will be tested at the points which matter most in her or his life and vocation. It is a central part of Christian vocation to learn to recognize the voices that whisper attractive lies, to distinguish them from the voice of God."
Maybe it's been a while since you've prayed. Maybe it feels too vulnerable in this season of life. Or maybe it's all you've been doing lately. Either way, Jesus throws us a life ring to cling to on our best days and our worst. Jesus' last words before his death offer us a prayer to repeat over and over again: "Father, into your hands I commend my spirit." (Luke 23:46)
–– Kelly LePenske, Pastoral Associate
---