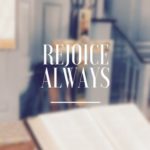 WAY #25. REJOICE ALWAYS. The Kingdom of God is a party! Let healthy laughter fill our meetings, our meals, and even our worship. Allow the joy of our faith be clearly evident in our speech and on our faces.
– Scriptures: Luke 15: 22–24; Philippians 4: 4; Proverbs 17: 22
PHILIPPIANS HAS ALWAYS BEEN the book in the Bible that I turn to for instructions in how to rejoice. It is a book of encouragement for me. You may ask why I need to learn about joy when the word JOY is everywhere this season. Yes, it is the Christmas season with cards that wish me joy, and advertisers who request that I buy their goods to give gifts of joy to others, and jewelry has the word joy imprinted by gems or by metal. So many places for joy to be included.
However, the joy that Paul describes in Philippians is being joyful in the presence of the Lord, or in a group of fellow believers who express joy in gathering together and in praising God for His loving care. In my small concordance at the back of my Bible, joy takes up 3 finely printed columns. It includes rejoice, joyful, enjoy, and joyous along with plain joy. Wow! Many of the references concluded with the words " … that your joy may be complete." That creates some thinking on our part, doesn't it?
Joy can take many forms: a baby who takes a first step, grandparents showing love, a gorgeous sunset, a new job you get, a baptism, a beautiful flower – and so many more. God is very generous in giving us much joy in ordinary things.
So what can we do with joy? Sing a song? Yes. Give hugs away? Sure. Dance? If you can. Praise the Lord? For sure! Pass it on to others who might need it? Absolutely.
The Lord has come. We remember that right now, but we know that the story doesn't end with Him as a baby. He has a hard road ahead of Him, but He is triumphant in God's plan. Glory be to His holy name. Halleluiah, Amen.
Rejoice in the Lord always. I will say it again: Rejoice! – Philiippians 4: 4
Barbara Lewis
---