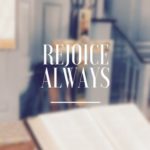 WAY 25 REJOICE ALWAYS The Kingdom of God is a party! Let healthy laughter fill our meetings, our meals, and even our worship. Allow the joy of our faith be clearly evident in our speech and on our faces.
"But his father said to the servants, 'We must celebrate with a feast, for this son of mine was dead and has now returned to life. He was lost, but now he is found.' So the party began." (Luke 15: 22 – 24)
Our last of our 25 Ways is the perfect last word as we try to define our culture. May we always be a happy church, a rejoicing church, a party-throwing church. Moorestown and the surrounding communities need to know in the worst way that there is wonderful news to hear and believe. We worship and serve the God of the Party! One of the best parties I've been to was our Vacation Bible School, which was held here last week. There were 200 party goers here from Monday to Friday. Each morning, our halls and rooms were filled with the best sounds of laughter, singing, and praying. Party on, FPCM!
---