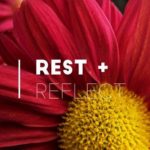 WAY #22. REST & REFLECT. Make time in your week to step back from work, school, and stressful demands. Since Christ has freed us, we no longer have to be obsessively driven. Take a walk, play, nap, meet up with friends, share a meal, or just take some time in solitude.
– Genesis 2: 2-3; Matthew 11: 28; Mark 2: 27
DECEMBER 1 is special to me because this was always the day I brought out this 4-foot holly bush with fake leaves and red berries. It truly was sad-looking, as it had seen a few years of being the Hanukkah Bush and the Christmas tree. We had an advent calendar made from tiny storybook ornaments each a piece of the story of Jesus' birth. Everyday after school and soccer or choir or both, before dinner we sat at this tree and found the day that was to be read. They would take turns reading the story day-by-day, sometime with a little drama of where that ornament was to be hung. Just recently I threw away that sad tree but the memories shine like the twinkling lights that made the little tree so bright. The tiny books are packed away for the next generation to share.
Then it was a December filled with a myriad of Christmas/Holiday events, when you have children that are two years apart each in a different grade, different choir and different practices, different sports and different instruments. I think many parents reading this can identify with this normalcy. Then there were Hanukkah candles to light, school choral concerts, violin recitals, bell choir and all of the rehearsals for the Christmas Eve services, plus Andrew's birthday on the 22nd of December and a birthday party in there somewhere. On Christmas Eve we were at the Church from around 4 PM until 11:30 pm after the Bell Choir was finished.
I will always be grateful for Joel Krott for teaching Allyson and Andrew about Jesus through songs they sung. They loved choir practice as well as singing in the choir at church. They never had to be convinced to go. Thank you, Mr. Krott!
Christmas Day was spent in pajamas from beginning to end after finding Baby Jesus in the manger under the tree. Phew! Now, I can reflect and see what glorious memories have been made at our church. all in the Name of Jesus Christ.
Now, here's the amazing part — 18 years later, Andrew was home for the day and after lunch he wanted to go by the church. I was surprised , but glad. He wanted to see if Mr. Krott was in his office. He took the stairs 2 at a time as he did when he was young. No Mr. Krott, for he was leading the Youth Retreat. He said he remembered that, too. The memories of the church were still there and will be there forever. As the Bible says, "Teach a child in the way they should go, and they will come back to Him." (Proverbs 22: 6)
Deborah Heller
---