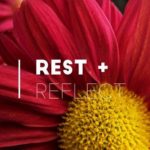 WAY #22 REST AND REFLECT. Make time in your week to step back from work, school, and stressful demands. Since Christ has freed us, we no longer have to be obsessively driven. Take a walk, play, nap, meet up with friends, share a meal, or just take some time in solitude. (Genesis 2: 2 – 3; Matthew 11:28, Mark 2:27)
"Because we do not rest, we lost our way." Wayne Muller
A week ago I spent several days at Holy Cross Monastery leading our Spring Prayer Retreat. I keep going back to Holy Cross for several reasons: it's a God-soaked place where I am able to worship and pray; sitting on a bluff over-looking the Hudson River, it's a place of beauty no matter the season of the year. But I also return to Holy Cross Monastery because I need a regular time of rest.
I needed again last week. I had been running hard since January. I knew I was tired and when I finally had the chance to stop there at the monastery, I really understood that I was worn out. Another pastor who joined us on the retreat spent much of the first days sleeping. She need to flop down for a while. In my book, that's good use of retreat time.
Why are we so tired? While at Holy Cross, our group read and reflected upon Ruth Haley Barton's book, Invitation to Retreat. In a chapter that explores our exhaustion, the author offers several reasons why we're running on empty:
We're functioning out of an inordinate sense of ought and should.
We find it difficult or even humiliating to receive help from others.
We might be living more as a performer than as the person God created us to be.
We may few or no boundaries on our service and availability to others.
We are carrying the great burden of unhealed wounds—sadness, unresolved tension, toxicity in one or more of our relationships.
We may be experiencing information overload.
We may be mired in our own willfulness.
Maybe now you see that you're exhausted, perhaps dangerously so. You now have the permission of the Lord Jesus Christ to rest. Please, go ahead and flop down, rest.
Stuart Spencer
---