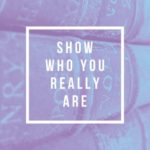 Way #17 Show Who You Really Are
I WAS NINETEEN YEARS YOUNG when I moved into my first apartment in east Los Angeles. I was proud to be out of my college's dorms and in a place of my own. Living with three friends, we strategized how we could turn our bare apartment into a home. We'd throw some rugs over the dingy, beige carpet in the living room to hide the previous tenant's stains. We'd go to Goodwill and find a dining room table with matching chairs so we could have dinner parties. And l suggested we paint the walls. Our outdated apartment may have been a bit worse for the wear, but some color would brighten things up.
After a trip to Walmart, my roommate and I had a blast painting our walls yellow, warm and friendly like the California sun. We cranked up the music, went to town, and stood back to admire our work at the end of the day. Well done, we thought.
A few days later, our landlady Kara stopped by with a plate of chocolate chip cookies. We invited her in, touched by the kind gesture, which is when she laid eyes on our yellow walls. "What do you think?", I excitedly asked. Kara was speechless. "It is kinda bright", I admitted. After scanning the room, she finally spoke: "I'm guessing you didn't read the fine print". And that was the moment I learned our lease had a "no painting any surface whatsoever" clause.
On the first day we met, Kara saw who I really was – someone eager for a fresh start and still bound to mess up. Jesus knows us better than we know ourselves, and he sees our costly mistakes all the time, yet he doesn't walk away. Ever. Jesus reminds us "that while we were still sinners, he died for us" (Romans 5:6). This means that we can bring our whole selves to him, every fear, shame, and yellow wall, and he'll offer us a better ending to our messy story.
The next day, Kara returned. She said she needed to hire painters to fix the walls, a project I couldn't afford. I was apologetic and totally embarrassed. I volunteered to do all the work myself, but she didn't let me finish my sentence. "Don't worry," she winked. "This one's on me." Kara didn't just meet me in my time of need; she went above and beyond. She accepted me as I was, flawed and broke, and I'll never forget it. This is how Jesus accepts us every day, and this is how redemption begins: by showing who you really are.
Kelly LePenske
---