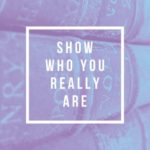 WAY 17. SHOW WHO YOU REALLY ARE. Our church is for "real" people. Bring your true self, including your joys, your sorrows, your fears, your strengths and your weaknesses. God loves you as you are. Don't hide your struggles, failures or problems.
CHANCES ARE YOU'VE HEARD the phrase before: "Church is a hospital for sinners, not a museum for saints." Some attribute this saying to St. Augustine of Hippo, others to John Chrysostom, a great preacher in the early church during the late 300s. Either way, this phrase poses a question for the church throughout history, and for First Presbyterian Church today. Do we agree with this statement only in theory, or do our hands and hearts bear witness to God's love for all?
The professors, youth group leaders and mentors who transformed my life through discipleship each have different stories, yet there's a common denominator, or word, that connects them all—imperfect. Whether it was Carina (my high school Young Life leader), Michael (my first theology professor), or Dave (my Young Life boss in Los Angeles), they all taught me that the most important thing I can bring to Christ is my whole imperfect self. Not part of me, or the polished I've-got-it-all-together me, but ALL of me. My fears, my insecurities, my anger, my sorrow, the hurt I inflicted upon others. "Bring your whole self to me," Jesus says. Then, and only then, can we discover what Christ has in store for everyone: transformation and healing, joy and hope, love and new life!
The first step in Alcoholics Anonymous is to admit your powerlessness, to own the truth that your life has become unmanageable and unhealthy. Isn't this what our call to confession is all about every Sunday morning in worship? To declare and accept that our ways are not God's ways, that we are, in fact, imperfect people? And here's the Good News: God LOVES imperfect people, and He loves partnering with them. Not in theory, but actually! St. Augustine says exactly this in The City of God. "God is always trying to give good things to us, but our hands are too full to receive them."
It's time to set down the mask, empty your hands and heart of pretenses, and show who you really are. Bring your whole imperfect self to Jesus and to First Presbyterian Church. And remember Paul's words: "But Jesus said to me, 'My grace is sufficient for you, for my power is made perfect in weakness.' Therefore I will boast all the more gladly about my weaknesses, so that Christ's power may rest on me." (2 Cor. 12:9)
Kelly LePenske
---