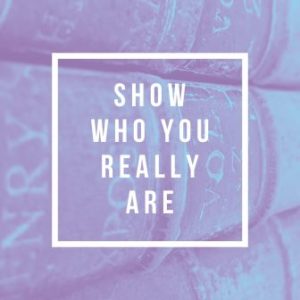 Way 17. SHOW WHO YOU REALLY ARE. Our church is for "real" people. Bring your true self, including your joys, your sorrows, your fears, your strengths and your weaknesses.a God loves you as you are.b Don't hide your struggles, failures or problems.
(a Romans 5:8, b John 3:16)
Do you dress up for church? Many of you do and you do so out of respect for God and the House of God. I was raised by a father who's always worn a tie and jacket to church even on the hottest and stickiest days of August. He was raised by a father who did the same thing.
Times are different, of course. Fewer men wear suits and ties anywhere, let alone church. Our whole culture has gone informal. In a different and but harder way, Way 17, Show Who You Really Are, is a statement about how we come dressed to church. We are to come to church as we are emotionally, spiritually, and relationally. We don't cover our weakness, we let others know that we're not doing very well. We don't pretend that everything and everyone in our lives is perfect. It matters that we're real.
In a blog post from the online version of Relevant magazine, a writer connected the vulnerability of Jesus to our own: It was on the cross that Jesus became vulnerable for you and for me. Christ's vulnerability has changed everything. He knows our weaknesses inside and out, for he too faced temptation, suffering, and sin – overcoming them for us on the Cross. We have a Savior who has given us eternal life, and in the here and now, he sympathizes with our weaknesses (Heb. 4:15).
I realize that this Way makes lots of us uncomfortable. "We don't air our dirty laundry" we were taught. Here's the thing: dirty clothes never get clean when hidden and balled up in the darkest corner of your closet. Dirty clothes grow filthier in the dark.
How can you start? You don't have to tell every dark secret from your past week. In fact, a part of this Way encourages us to share our joys—answered prayer, the birth of a grandchild, a new job or a blessing you recently received. When someone asks you how you are, consider going a little deeper than, "I'm fine." You could simply tell another that you'd appreciate their prayers. If you're close to that person or sense that the she or he is trustworthy, you could pull that person aside and share what you need to share.
Bring us who you are. You'll help others who have struggles and burdens. By all means, bring your joy. We need lots of it these days. Come as you are. After all, that's how God knows you and loves you.
---