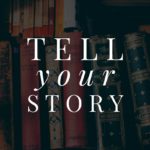 WAY #24 TELL YOUR STORY
I WAS THIRTY-ONE, flat on my back, weak and in such pain, I was unable to lift a finger. What had happened? I had grown up in the church from cradle roll up with virtually perfect attendance, yet even now as a member of FPC living life 'as best I could,' I had run myself into the ground and was empty. Crises lay bare our real need. Crying out to God to take over, a peace and desire to "know Him" began to well up within. But how?
Thus began a series of connections: I joined a Community Bible Study, led by Arlita Winston. A few months later, a discipling small group became available, and I put myself into that. As I began to learn the "how to's" of reading Scripture, praying, and learning other spiritual principles and disciplines, I was constantly struck with how much more "life" God desired for me to have! But I also came to realize that if I wasn't in a small group going forward in my pursuit of God, I would slip back and lose the vibrancy of connecting personally with Him. The discipling taught me how to follow Him; the small groups connected me with other followers encouraging reliance on the Holy Spirit and accountability to keep growing.
During this COVID sequestering and the current unrest in our nation, our lives are being shaken. Our way of life is being altered. What have we learned we can live without? What have we learned that has renewed us, which we want to keep? How can we better connect with God and His purposes … that abundant life He promises in the midst of uncertainty all around? How can we grow in being true followers of Christ? How can we deepen our understanding of prayer? I don't know about you, but I'm eager to connect with other seekers and followers in pursuit of Jesus together! Look for our discipleship and prayer initiatives and connect in a small group — abundant life awaits!
"Go, therefore and make disciples … teaching them to obey all that I have commanded you…and I will be with you always, to the very end of the age." – Matthew 28:19-20 "And let us consider how we can spur one another on to love and good deeds. Let us not give up meeting together, as some are in the habit of doing, but let us encourage one another, and all the more as you see the Day approaching!" – Hebrew 10:24-25
Elder Joyce Peacock
---