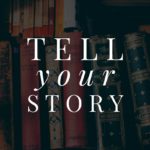 WAY #24. TELL YOUR STORY. God has done and is doing something unique in your life. Has God answered a prayer, provided help or blessed you? Share it. Ask God for opportunities to share your faith in Christ by words and deeds.
(Scriptures: Luke 8: 39; Psalm 107:2; Acts 1:8)
THERE'S A TRUISM THAT GOES something like this: When a person asks in passing, "How are you?" or "How's it going?", the last thing they want to hear in reply is how you truly are or how it's really going. It's also likely the inquiry recipient doesn't care or want to say how they truly are. This scenario doesn't happen just in public venues like on a public sidewalk or in a shopping center. It can happen in church and even in your own home. Just think of when you might have wanted to say something about yourself, but instead reduced your participation to one-word replies, short neutral statements, or silence.
Telling your story isn't easy. When Paul traveled to emerging churches to tell his story, he risked arrest, imprisonment, and even death. When you open up about yourself, you may not be facing such dire consequences, but you may still feel vulnerable and think that maybe you're making others uncomfortable. But at the same time, you open yourself to an opportunity to share, to teach, to learn, to support and maybe even to be supported.
It's providential that this Way falls close to Christmas. As Dr. Bruce Main recently preached to us, God tells the best stories and there's none better than the story of Christ's birth, life, death and resurrection. In giving us the best story to tell, He lets us make it part of our own story while making us part of His greater story.
So, what's my story? Briefly, New Jersey is my 17th home, I'm a 38-year cancer survivor, I've served as Elder five times at four different churches, Marcia and I will have been married 37 years this December, my good days far outnumber not-as-good days as I deal with Parkinson's Disease, I have two daughters and four grandchildren and First Presbyterian Church of Moorestown is my 17th church home. For the long version, just ask me how I am.
Elder Michael Jones
---