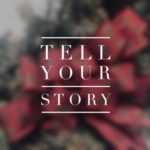 WAY
24. TELL YOUR STORY. God has done and is doing something unique in your life. Has God answered a prayer, provided help, or blessed you? Share it. Ask God for opportunities to share your faith in Christ by words and deeds. (Luke 8:39; Psalm 107: 2; Acts 1:9)
When I was a teenager there was a man in my church named Bill Baronsky. Bill stood out from everyone else. He was a contractor, a blue collar guy sitting in a congregation filled with white collar professionals. Bill was big and loud. His favorite expression, which he said about a hundred times a day was, "Praise the Lord!" Bill had tons of miracles stories from his life. As a teenager, I admired Bill a great deal. But in comparison to his life, mine was boring. There were no miracles taking place that I could see. I had nothing to share. God wasn't doing much of anything; or so I thought. If you too think you've got nothing to say; you do.
Truth is that God is working in your life and if you have faith to look, you'll find plenty to share with others. Here's some advice I'd pass along from a pastor named John Ackerman. One, don't look only for the "big events." Those big events are nice and often come at the beginning of our faith journey, but God most often comes in small daily acts. Two, don't concentrate on your failings. Rather than obsessing over what you've done wrong, look to God's gifts first and turn to receive God's forgiveness.
Stop: This may be the hardest thing to do. Find a quiet place where you can be undistracted for a few moments. Ask God to bring His light and truth to your mind so can see.
Look: Look closely at your blessings from the last twenty-four hours. Pick out and relish the gifts you have received: an answer to prayer, a small kindness someone from your family or a friend did for you, or a stimulating idea that you learned from the Scriptures.
Listen: Pray about what you can learn from what you have seen and noticed in your life. Thank God for every blessing, no matter how small. Are you free of pain today? Did you arrive safely to work or school? Make a prayer—mental or written—offering your thanks and your whole life to God. And then, ask God for the opportunity to speak to someone about what He has done.
This Way encourages us to pray for opportunities to share our faith in Christ with others, thus inviting them to know Jesus, whom we love. All God asks of us is that we're willing to open our mouths, God will do the rest of the work of salvation. The Church of Jesus Christ has always grown when Christians tell their story.
---