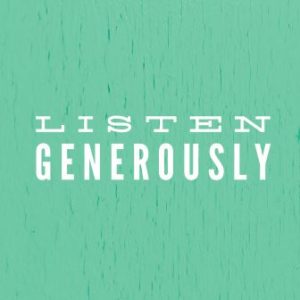 Way #3 Listen Generously
LISTEN GENEROUSLY. Be quick to listen and do so with your undivided attention.a Minimize the distractions and let go of the need to agree or disagree. Suspend your judgment and be curious to know more rather than jumping to conclusions.b,c Above all, listen to understand.
a Understand this, my dear brothers and sisters: You must all be quick to listen, slow to speak, and slow to get angry. Human anger does not produce the righteousness God desires. (James 1: 19, 20)
b Spouting off before listening to the facts is both shameful and foolish. (Proverbs 18: 13)
c Fools think their own way is right, but the wise listen to others. (Proverbs 12:
15)
Ideas for Action: Put aside phones and laptops. Turn off the TV or computer and face someone you love. Focus on what the other is saying; not on what you want to say. Be careful that you're not interrupting because you're not listening to them.

---