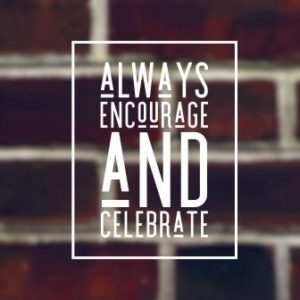 Way #4 Always Encourage and Celebrate
ALWAYS ENCOURAGE AND CELEBRATE. Show gratitude and appreciation by regularly acknowledging the good works you see everywhere. Look for signs of spiritual growth and maturity among our members and staff. When you see it, point it out and rejoice. Pass on good reports that you hear about others.
a We always thank God for all of you and pray for you constantly. As we pray to our God and Father about you, we think of your faithful work, your loving deeds, and the enduring hope you have because of our Lord Jesus Christ.
b When the church at Jerusalem heard what had happened, they sent Barnabas to Antioch. When he arrived and saw this evidence of God's blessing, he was filled with joy, and he encouraged the believers to stay true to the Lord. (Acts 11: 22, 23)
Ideas for Action: Write a text or a note to someone close to you who just did something wonderful or important. With many details, tell them why you're grateful or delighted by them.
---