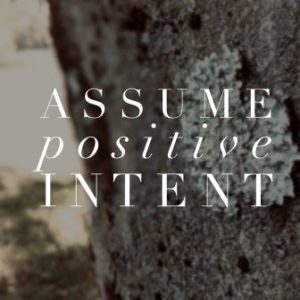 Way #5 Assume Positive Intent
ASSUME POSITIVE INTENT. Decide to trust that other members are being fair, honest, and concerned for the well-being of our church. Set aside your own judgments and preconceived notions. Surrender the urge to criticize and judge—it doesn't help. Graciously give people the benefit of the doubt.
a Most important of all, continue to show deep love for each other, for love covers a multitude of sins. (1 Peter 4:8)
b "Do not judge others, and you will not be judged. For you will be treated as you treat others." (Matthew 7:1)
c Love is patient and kind. Love is not jealous or boastful or proud or rude. It does not demand its own way. It is not irritable, and it keeps no record of being wronged. It does not rejoice about injustice but rejoices whenever the truth wins out. Love never gives up, never loses faith, is always hopeful, and endures through every circumstance. (1 Corinthians 13: 4 – 7)
Ideas for Action: Take a "criticism inventory." Just how critical are you, really? Ask someone you love and trust to tell you how you're doing in this area. Try a 24-hour fast from all forms of criticism. No complaining or criticism for an entire day.
---