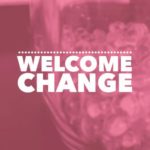 WAY 15. WELCOME CHANGE. Be curious about new ideas, perspectives, and approaches. Get excited by the possibilities that change can bring. What worked in the past won't always work in the future, for God is doing new things.
– Mark 2: 22; Revelation 21:6, 2 Corinthians 5:17
LET'S BE HONEST. We hate change. I do. I used to listen to my favorite music from a website called Groove Shark. I loved it. I had it figured out and I could access all my favorite tunes. Then Groove Shark got into legal trouble with all the music artists on their sites. I got an email that coldly informed me that Groove Shark was no more because the Groove Shark guys were going to jail for a while. Bye-bye Groove Shark! Hello, Spotify. I didn't like this new music source simply because it wasn't Groove Shark.
Church people hate change: Don't mess with my worship times. Don't fool with my favorite hymns. And most of all, don't sit in my pew.
I'm grateful that this Way sits right in the middle of our Twenty-Five Ways because God loves change and I believe He's rubbing His hands in glee because He has a lot of changes in store for you and for us.
Let me offer three important guidelines to help us as God brings us change that I learned from the book, Canoeing the Mountains by Fuller Seminary's Tod Bolsinger.
First, some things must never change. "What are the key elements of our theology, tradition, ministry practices and organizational culture that must be maintained at all costs because to lose them would be to lose our identity?" Be careful as you think through the matters that Bolsinger declares must never change. There aren't many items on the list.
Second, what should be discarded? What can we stop doing or let die so we can free resources and energy for new forms of ministry [and mission]? Remember this: people [including you] don't resist change. They resist loss. With change and something new comes loss and letting go. Loss is what makes change hard.
Third, what needs to be tried here? What kinds of experiments should we attempt? Today, we're going to have to try and fail in order to grow and change. "What essential part of the church's identity and mission needs to be adapted to a new day, environment or opportunity? How can the church keep doing the things it is called to do, but in a way that resonates, connects, serves and challenges people who wouldn't otherwise pay it any attention?
The promise of change is bound up in God's certain promise: Behold, I am making all things new!
Stuart Spencer
---