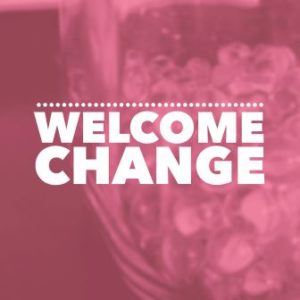 #15: WELCOME CHANGE. Be curious about new ideas, perspectives, and approaches. Get excited by the possibilities that change can bring. What worked in the past won't always work in the future, for God is doing new things. – Scriptures: Mark 2: 22, Revelation 21: 6
AT THE START OF 2019 when we rolled out our twenty-five Ways Statements and assigned each Way for a particular week, we had no idea that number fifteen, "Welcome Change" would be introduced on Easter Sunday. It is; and I can't think of a better Sunday to get us thinking about new ideas, perspectives and approaches. Now we look inside, and what we see is that anyone united with the Messiah gets a fresh start, is created new. The old life is gone; a new life burgeons! 2 Corinthians 5:17,
The Message In thinking about discipleship recently, I found this great definition of a disciple written by Robert Webber, "Becoming a disciple of Jesus means that you have become a new person. The term used by Jesus is "born again" (John 3: 3 – 8) It's a new start in life, a new way to understand yourself, to treat others, to see the world." Easter tells us that God is in the business of making all things new, including you, me, and First Presbyterian Church for starters.
Someone's going to ask, "What's wrong with the old? Is there a problem with how we've always done it?" Old isn't worse and new isn't better, necessarily. Yet we always have to be on the lookout for staying comfortable and digging ruts. And you know that ruts are nothing more than coffins with the ends kicked out. One thing I know is that God isn't much interested in our comfort as He is in our character. And the shaping of our individual character and our church's character will require openness to the new while maintaining respect for the past.
Years ago, when I was a high school student, I hung a poster in my bedroom. It showed a hill covered in blooming flowers. The caption said, "It's always springtime in the heart that loves God."
Be new, First Pres! Welcome change. It's springtime; it's Easter.
Stuart Spencer, Pastor
---