<
The 25 Ways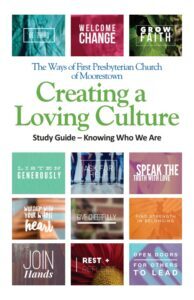 We, the church family of First Presbyterian Church of Moorestown, deeply believe that in life and in death we belong—body and soul—to our faithful Savior Jesus Christ. Therefore, we trust that Jesus has fully paid for our sins and set us free from the tyranny of selfishness, evil, and death. We also believe that we belong to one another. Though we're all frail and broken people, we're striving to create here "an atmosphere thick with love" by encouraging and reminding each other to lean into a community committed to knowing God and making God known. The following "ways" are based on the Bible, God's Word, and are meant to aid us in becoming people who reflect God's image. They're not rules or laws to be obeyed but rather reminders, encouragers and prompts pointing us to the ways we should live with one another to reflect that image.
At this important moment in our congregation's history, we're giving intentional and focused attention to how we can better "be the church". This means we're thinking about the atmosphere or culture of our congregation. We've identified 25 culture statements or "ways" that we'll consider week by week. You'll hear about our Way of the Week in worship and at almost any meeting or study that happens. The idea is that we're all trying to learn or be reminded of how we can be the strongest and healthiest people we can be for God's purpose and glory.
As a people who've experienced the merciful welcome of Jesus Christ, we belong to Him and to one another. In our desire to grow deeper in our faith, stronger in our love, and more effective in our service, we've outlined the following ways.
Rest your pointer on each of the WAYS graphics to read about the WAY; then click to go to the WAY page where you will find so much more!
God is first, others are second, and you're third. Don't just think about yourself, your own interests, but be interested in others. Don't think less of yourself, just think of yourself less and others more

.
SPEAK THE TRUTH WITH LOVE
Speak honestly and directly in a way that clearly reflects love and support for one another. Be courageous enough to say what needs to be said, even when it's difficult.
Be quick to listen and do so with your undivided attention. Minimize the distractions and let go of the need to agree or disagree. Suspend your judgement and be curious…
Show gratitude and appreciation by regularly acknowledging the good works you see everywhere. Look for signs of spiritual growth and maturity…

Encourage others to step into leadership by sharing responsibilities and mentoring. Let go of the jobs you've always done and allow new leaders…
Take advantage of every chance you have to form your faith—through small groups, classes, and personal study. Be a disciple and look to learn from those who know more of the Bible…
Be curious about new ideas, perspectives, and approaches. Get excited by the possibilities that change can bring. What worked in the past won't always work in the future, for God…
Rejoice, you get to give! Think of giving as a privilege rather than an obligation, a joy instead of a burden. As you consider all that's been entrusted to you—time, abilities and money—ask…
Our church is for "real" people. Bring your true self, your joys, your sorrows, your fears, your strengths and your weaknesses. God loves you as you are. Don't hide your struggles, failures…
Part of being a real and authentic member of the church is to acknowledge your weaknesses and to be willing to ask for God's help and the support of others.
God's love opens the doors of our church to all people. Just as Jesus did, welcome people as they are. It's not up to us to judge. Love unconditionally…
FIND STRENGTH IN BELONGING
At FPCM, you're loved and valued. Claim us as your family. Rather than withdrawing, allowstruggles and disappointments to deepen your sense of belonging.

We're blessed to be a blessing. God intends to use you to bless, heal, restore, and liberate a dark and hurting world. We're here for others: our families, our community, and the world.
Make time in your week to step back from work, school, and stressful demands. Since Christ has freed us, we no longer have to be obsessively driven. Take a walk, play, nap, meet up…
Your life is meant to be an act of worship. Every breath, action, and thought flows from God and can bring Him glory. Praise God everywhere and embrace…
God has done and is doing something unique in your life. Has God answered a prayer, provided help, or blessed you? Share it. Ask God for opportunities to share your…
The Kingdom of God is a party! Let healthy laughter fill our meetings, our meals, and even our worship. Let the joy of our faith be clearly evident in our speech and on our faces.
We have compiled our 25 WAYS into one – easy to study, good to have on hand – booklet for you.