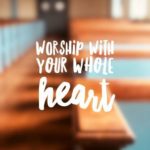 WAY 23 WORSHIP WITH YOUR WHOLE HEART
"And you must love the Lord your God with all your heart, all your soul, all your mind, and all your strength." (Mark 12: 30)
And so, dear brothers and sisters, I plead with you to give your bodies to God because of all he has done for you. Let them be a living and holy sacrifice—the kind he will find acceptable. This is truly the way to worship him. (Romans 12: 1, 2)
Let everything that breathes sing praises to the Lord! (Psalm 150: 6)
IT'S HARD TO IMAGINE that worship could be anything other than wholehearted since the concept of worship has to do with that which we value the most. If we have an attitude or take an action that is half-hearted, we might really have a quite positive value at heart ….. really like, even love the object of our affection or attention, but we are not worshipful.
When we make an offering, render service, or utter praise, we might be very sincere, but are not necessarily worshiping. For all we know, Cain might have had motives that were noble when he brought his offering. He might have had a modicum of sincerity. But the story shows that his offering was not accepted. It sort of sounds right to say: "God accepts anything as long as we are sincere." But it is very wrong. The story of Cain and Abel shows that.
Coming into God's presence, if our intent is to "worship," means that He must be the sole and total Lord of our hearts. Nothing, and no one, can be higher than God. Even every word and thought must honor the Lord Jesus above all else. Less than that might be genuine. Might be popular. Might be cool. Might be what we think is our best. Might even seem sacrificial. But it is not worship.
"Love so amazing, so divine demands my soul, my life, my all."
Joel Krott
---